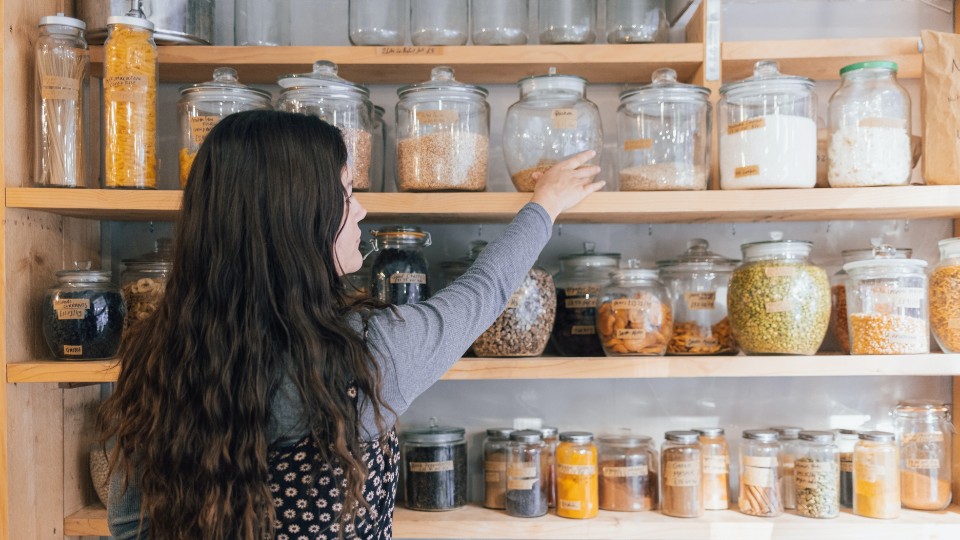 Some weeks are busier than others and it's normal to run out of time to plan our meals of the week. 
This list of pantry essentials contains items that help create a healthy meal, even when planning isn't an option. These are basic ingredients that are often used in recipes and most of them can be kept for a long time, as well as being inexpensive and are very versatile. 
Use this list to get a general idea of items that are good to have on hand, but do not feel obliged to buy them all at the same time! Get 1 to 2 items per week and in no time, you and your kitchen will be ready for any eventuality! 
Dry ingredients
Dry ingredients are usually inexpensive and can be used in a variety of recipes. It is often more affordable to buy them in bulk. 
 Flour: all-purpose, whole wheat 
Oats: oatmeal, granola, smoothies 
Rice: basmati, brown, wild, jasmine 
Corn starch: to thicken your sauces 
Pasta: in 10 minutes, your meal is ready! 
Nuts: ideal as a snack, or to add flavor and texture to your recipes! 
Oils, vinegars and sauces
These items are essential to give flavor to your dishes. Commercial sauces and dressings are often very rich in fat, sugar, and sodium - it's always better to make them yourself and it also makes you save a little! 
 Oils: canola, extra virgin olive oil, sesame, spray 
Vinegar: apple cider, red wine, rice, balsamic 
Soy sauce: preferably reduced in sodium 
Hot sauce: tabasco, sriracha 
Herbs and spices 
Spices and herbs can add a lot of flavor to your dishes without affecting their nutritional value. These are my favorite herbs and spices - your list may differ depending on your taste and the type of cuisine you prefer.
Obviously, these items are kept a little shorter, but it is always good to have them at hand.
Milk: cow, soy, almonds (whichever is preferred) 
Natural Greek yogurt: very versatile, it can be used in smoothies or as a substitute for mayonnaise in a dip or salad 
Eggs: a quick omelette and you're done 
Tofu: a sautéed tofu is prepared in less than 10 minutes! 
Items to freeze 
Vegetables: already washed and cut up, they save a lot of time. In addition, their nutritional value is almost not affected! 
Fruits: delicious on yogurt, smoothie or muffin recipe 
Edamame beans: simple addition to any salad to increase your fiber and protein intake 
Canned items 
Although the nutritional value of canned foods is less interesting than that of fresh or frozen foods, these items are still good choices. Always opt for reduced sodium or sodium-free versions. 
Tomatoes: whole, diced, sauce, dough - think chili, pasta, soup, pizza 
Beans: a source of protein and fiber that is easily added to a recipe 
Tuna and salmon: sandwich or salad, ideal for the lunch box! 
 With all these items at your fingertips, you have plenty of options when it comes to preparing your meals. Over time, you will be able to have your own version of the essentials according to your personal taste and preferences !