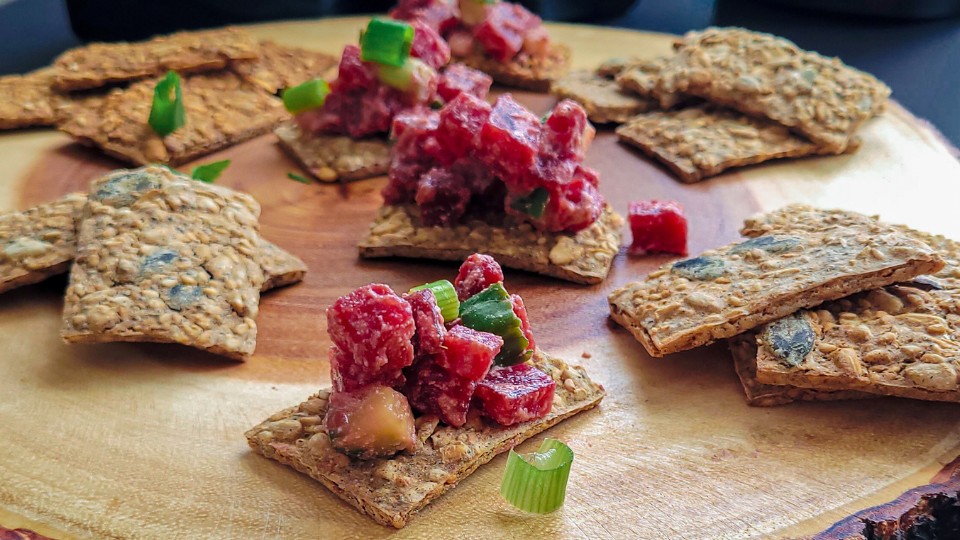 Discover the versatility of crackers in this article, where we present you with delicious recipes for all hours of the day. Crackers, paired with healthy and flavorful ingredients, offer a combination of textures and tastes that will satisfy your taste buds. Get ready to be inspired by these creative recipe ideas featuring AUZE crackers from La Fabrique Gourmande.
Crackers + Peanut Butter + Banana
Say goodbye to traditional peanut butter toast and discover a delicious and nutritious alternative. This recipe combines crunchy AUZE plain crackers with the sweetness of bananas. Peanut or nut butter adds healthy proteins and fats to keep you energized throughout the morning. Bananas, rich in fiber and vitamins, complete this balanced breakfast. Quick to prepare, this tasty option is perfect for busy individuals or those in need of ideas and can serve as a satisfying snack alternative.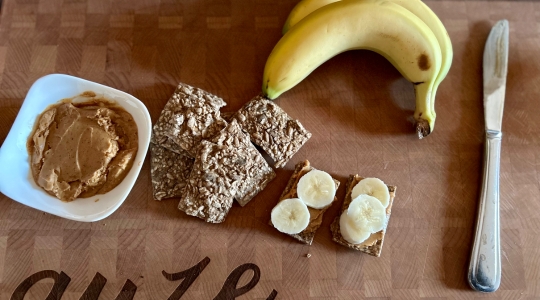 Crackers + Egg Spread + Grapes
Elevate the classic egg sandwich with these AUZE plain crackers from La Fabrique Gourmande. Eggs, an excellent source of protein, will provide you with the energy to kickstart your day or keep it going with a boost of vitality. Accompany it with juicy grapes for a sweet and refreshing touch. The crackers add the necessary crunch to make this combination delightfully satisfying. For a fresh twist, add chives, which contribute a delicate flavor to this preparation.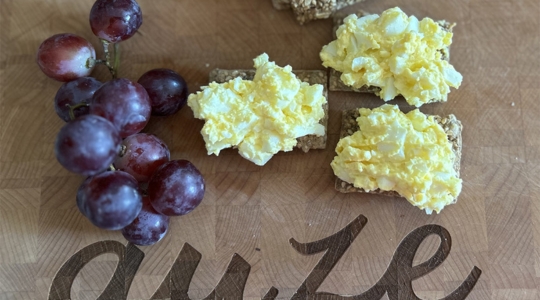 Discover a delectable recipe that combines the sweetness of beets with the creaminess of ricotta for a WOW effect of flavors. Prepare to be enchanted by this bold combination that will elevate your crackers. Pair this delightful tartare with Skandinav AUZE crackers for a perfect mix of textures and tastes. These crackers, filled with sunflower and sesame seeds, will enhance the flavors of the beet and ricotta, adding an irresistible crunchy element to each bite. Indulge in this surprising marriage and relish this original recipe that will impress your guests during your gatherings. The beet and ricotta tartare crackers are ready to be savored and will surely make a sensation!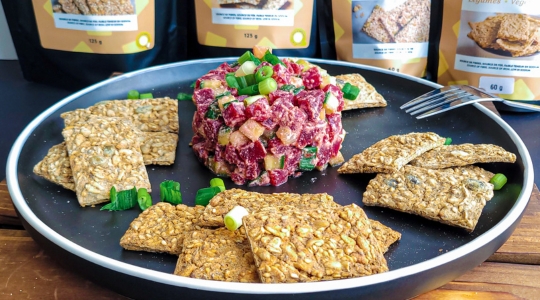 Crackers + Cottage Cheese + Raspberries
Have a sweet tooth? Try these delicious AUZE plain crackers from La Fabrique Gourmande accompanied by cottage cheese and raspberries. This exquisite combination offers a perfect blend of sweet and creamy flavors. Cottage cheese, rich in protein, adds a smooth texture, while maple syrup provides a sweet touch. Raspberries, on the other hand, deliver an explosion of flavor in every bite. This combination is nutritious, comforting, and ideal for satisfying your sweet cravings.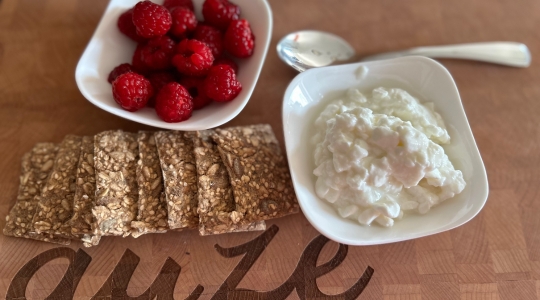 Crackers are truly versatile and can be enjoyed at any time of the day. They can be paired with a variety of healthy and delicious ingredients to satisfy your taste buds. Try these recipe ideas and discover how crackers can add a crunch and flavor to your daily meals and snacks. La Fabrique Gourmande offers a wide variety of cracker flavors under the AUZE trademark, so have fun exploring different tastes!