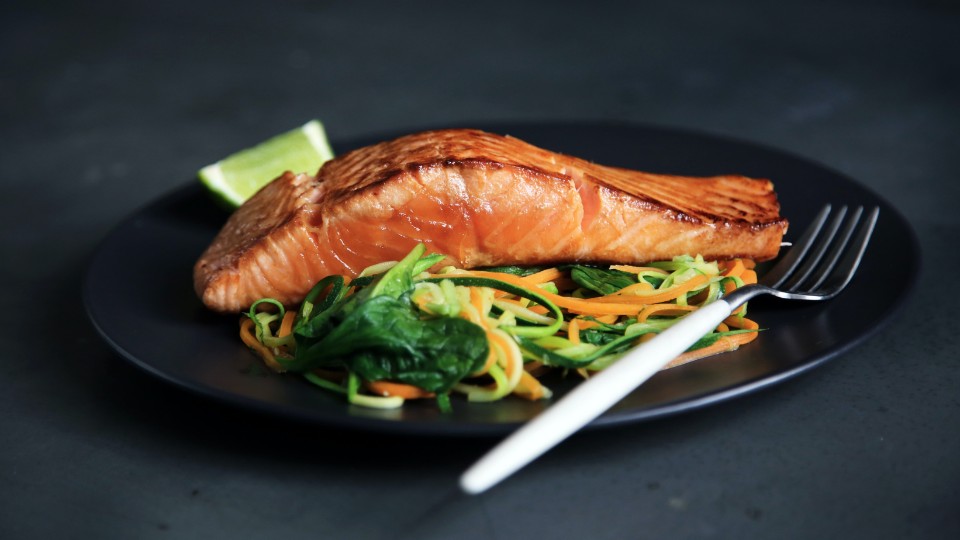 Your bowling score, the money in your wallet, or calories burned on the treadmill – What do these three things have in common? A higher number is better. Unfortunately, when it comes to your cholesterol, it's a case of less is more. 
High cholesterol is a condition affecting over half of Canadians aged 40 to 59 years old and 44% of those 60 to 79 years old. So, what to do if you are in this group? A quick google search can leave you more confused than before. Ketogenic or vegan, high fat or low fat, it seems that either everything or nothing works. But how about a back to basics, non-extreme and balanced way of eating? It seems that the most sustainable, realistic and science-based solution is the least talked about. So before you increase your bacon intake or eliminate the eggs, here are a few tips that can help control cholesterol levels without leaving you feeling deprived or in worse shape than before.
1. Cut the Saturated Fat, Eliminate the Trans Fat
While in the past, eggs were often vilified due to their high dietary cholesterol content, they are not the main culprit behind high blood cholesterol. You may want to lay low on the butter, sausages and high fat cheeses however, as saturated fats can increase those "bad" LDL cholesterol levels. Olive oil, avocados and nuts in appropriate quantities are much better sources of fat. Highly processed foods containing artificial trans fats that are particularly problematic and items containing these should not be a regular part of your diet. Luckily, a recent, not so talked about Canadian law, passed in September banning the use of partially hydrogenated oils, the main source of such trans fats.
2. Stock Up on Soluble Fibre
Healthy eating does not mean hunger. I'll say it again for those in the back, healthy eating does NOT mean hunger. While some foods should be consumed more occasionally, others should be included more often. Soluble fibre is found in a variety of fruits, vegetables, legumes and other plant-based foods such as oats. Those wanting to lower their cholesterol levels should aim to get at least 10g a day coming from such fiber. There are many foods that are good for your satiety, your cholesterol and your taste buds.
3. Prioritize Plant Sterols
Plant sterols are compounds also found naturally in different plant-based foods such as nuts, fruits, vegetables and whole grains. Sufficient quantities may be hard to attain even after including more of these foods in your diet. Health Canada has therefore approved the addition of plant sterols in mayonnaise, margarine, juice, yogourt and salad dressing. Always check the label!
4. Introduce More Fish and Seafood
Consumption of omega-3's has been shown to increase blood HDL while decreasing triglycerides. Fish is a great source of protein that can also decrease your intake of saturated fat by replacing a meat-based meal! Here's a tasty recipe of dijon salmon that's sure to please.
5. Reduce Your Weight (or Maintain a Healthy One)
If achieving a healthy weight seems like an unattainable task, know that just a small weight loss of 5-10% already has a significant impact on reducing your blood cholesterol, among other cardiometabolic benefits. Eating well and exercising are essential in reducing or maintaining a healthy weight and for long term health and wellness. If you need a helping hand, we'll be there with you every step of the way.
In conclusion, managing your cholesterol levels may seem complex, but a balanced and realistic approach can help you achieve your goals without feeling deprived or overwhelmed. By prioritizing healthy fats such as olive oil, avocados, and nuts, and avoiding saturated and trans fats, you can promote better lipid balance. Adding soluble fiber to your diet from fruits, vegetables, legumes, and oats is also beneficial for cholesterol reduction. Plant sterols found in certain foods and omega-3s found in fish and seafood are other important elements to include in your diet. Lastly, maintaining a healthy weight and adopting an active lifestyle will contribute to improving your lipid profile and overall well-being. If you need assistance in reaching your health goals, don't hesitate to contact us. We are here to support you at every step of your journey towards better health.