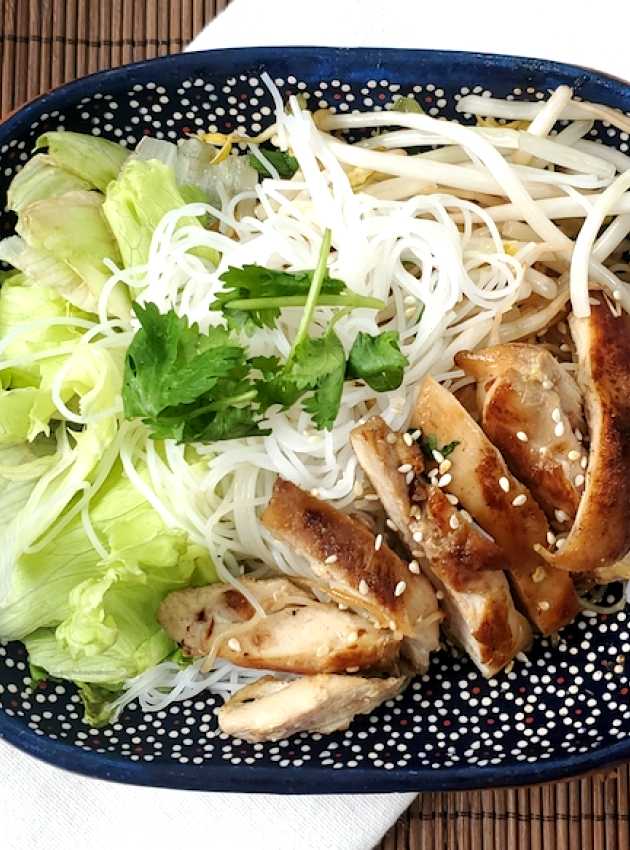 Indulge in the aromatic flavors of our Vietnamese Lemongrass Grilled Chicken (Gà Nướng Xả) recipe. Tender and juicy, this dish is infused with the vibrant essence of lemongrass, creating a tantalizing grilled chicken experience.
Ingredients
454 g (1 lb) boneless chicken thighs
Marinade:
30 mL (2 tablespoons) lemongrass, coarsely chopped (see note)
15 mL (1 tablespoon) lemon juice
15 mL (1 tablespoon) fish sauce (see note)
10 mL (2 teaspoons) maple syrup
5 mL (1 teaspoon) sodium-reduced soy sauce
2 cloves garlic, minced
Topping (optional):
2 green onions, minced
30 mL (2 tablespoons) coriander leaves, coarsely chopped
5 mL (1 teaspoon) sesame seeds
Note:
Lemongrass can be found in the herb section of the grocery store or frozen in an Asian grocery store. It can also be substituted with an equal amount of lemon zest.
Fish sauce can be found in the Asian sauce section of the grocery store. It is an essential sauce in many Southeast Asian recipes - don't worry, it won't make the chicken taste fishy! It can be substituted with 5 mL (1 tsp) additional soy sauce and 10 mL (1 tsp) water.
Preparation
In a large bowl, combine all marinade ingredients and mix well.
Add chicken and coat all pieces with marinade. Set aside in the refrigerator for at least 30 minutes.
Preheat BBQ and oil grill or preheat a non-stick pan over medium-high heat with a little vegetable oil.
Drain the chicken and discard the marinade, making sure to remove the lemongrass pieces.
Grill the chicken for 3 to 5 minutes on each side, the internal temperature should reach at least 74°C (165°F) in the middle of the piece.
Serve with Vietnamese Pickles or vermicelli. Add garnish if desired.
Notes
Can be kept for 3 days in the refrigerator in an airtight container.