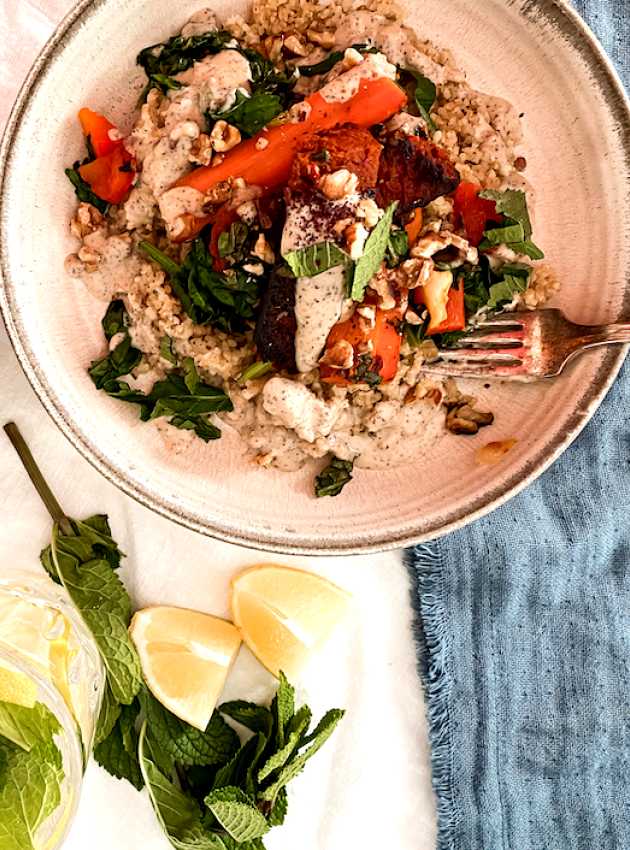 Discover our flavorful recipe for Vegetarian Tabbouleh with Tahini and Sumac Sauce. Packed with fresh ingredients and Middle Eastern spices, this dish is a vibrant and satisfying twist on a classic. Perfect for vegetarians and tahini lovers alike.
Ingredients
1 L (4 cups) low sodium vegetable broth
4 carrots, cut into sticks
500 ml (2 cups) cooked bulgur wheat (or 1 cup raw)
15 ml (1 tbsp) vegetable oil
Half an onion, chopped
One red bell pepper, diced
2 GUSTA vegetarian sausages (we used the one with smoked paprika)
500 ml (2 cups) fresh spinach, chopped
Sauce
125 ml (½ cup) tahini (sesame butter)
80 ml (⅓ cup) carrot cooking water
Juice of half a lemon (or 30 mL / 2 tbsp.)
15 ml (1 tbsp) sodium-reduced soy sauce
5 ml (1 tsp) sumac
Garnish (optional)
Fresh mint, chopped
Walnuts, toasted
Preparation
In a large saucepan, bring vegetable broth to a boil and add carrots, cut lengthwise and widthwise.
Simmer for 15 minutes.
Meanwhile, in a skillet heated over medium high heat, sauté onions in oil for 3 minutes.
Add peppers and sausages (cut in half lengthwise and widthwise) and continue cooking, turning sausages occasionally.
Once the sausages are grilled, add the spinach and continue cooking for about 5 minutes or until the spinach is softened, then transfer to a bowl.
Once the carrots are cooked, remove to water, making sure to keep the cooking water. You can save the cooking water for a soup. Grill the carrots on both sides in the still hot pan. Add a little oil if necessary. 
In a small bowl, combine all sauce ingredients.
In a bowl or plate, divide the cooked bulgur wheat, vegetable and sausage mixture and carrots. Add sauce and garnish if desired.