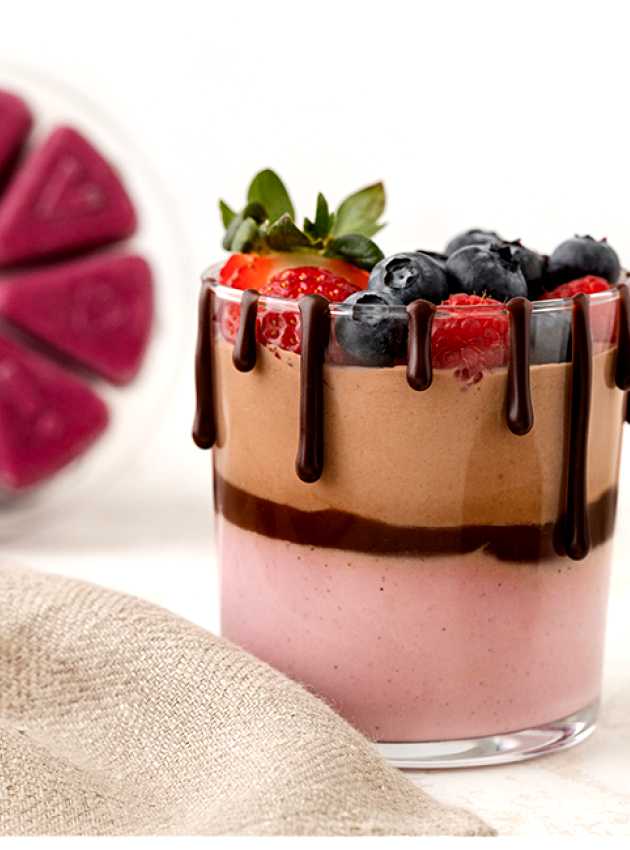 Discover our exquisite recipe for vegan chocolate mousse with berries, created by our partners at Evive. An indulgent fusion of divine flavors and nourishing ingredients, delivering an unparalleled gourmet experience.
Ingredients
375 ml (1 ½ cups) raw cashews, soaked
398 ml (1 - 14 oz can) coconut milk
80 ml (⅓ cup) maple syrup
30 ml (2 tablespoons) coconut oil
Pinch of sea salt, optional
Dash of vanilla, optional
Optional: oat milk – add a few tablespoons if consistency is too thick
Toppings: berries & chocolate drizzle
Chocolate Ganache:
250 ml (1 cup) vegan chocolate chips
80 ml (⅓ cup) coconut cream
15 ml (1 tablespoon) maple syrup
2.5 ml (½ teaspoon) vanilla
Pinch of sea salt
Preparation
In a blender, mix together the cashews, coconut milk, maple syrup, coconut oil, vanilla and sea salt until smooth.
Split the mousse in half. Add the Viva cubes to one half and the Azteque cubes to the other half. Blend again until smooth.
Making the ganache: Heat the coconut cream in a small pot until it's simmering. Pour over the chocolate chips and let sit for a couple of minutes. Mix in the maple syrup, vanilla and sea salt. Stir until smooth.
Divide the Viva mousse between 4-6 glasses. Pour the chocolate ganache on top of the Viva layer. Finally, pour the Azteque mousse on top of the chocolate ganache layer.
Cover and place in the fridge to set for 2-3 hours, or until firm.
Top with fresh berries and a drizzle of the chocolate ganache before serving.