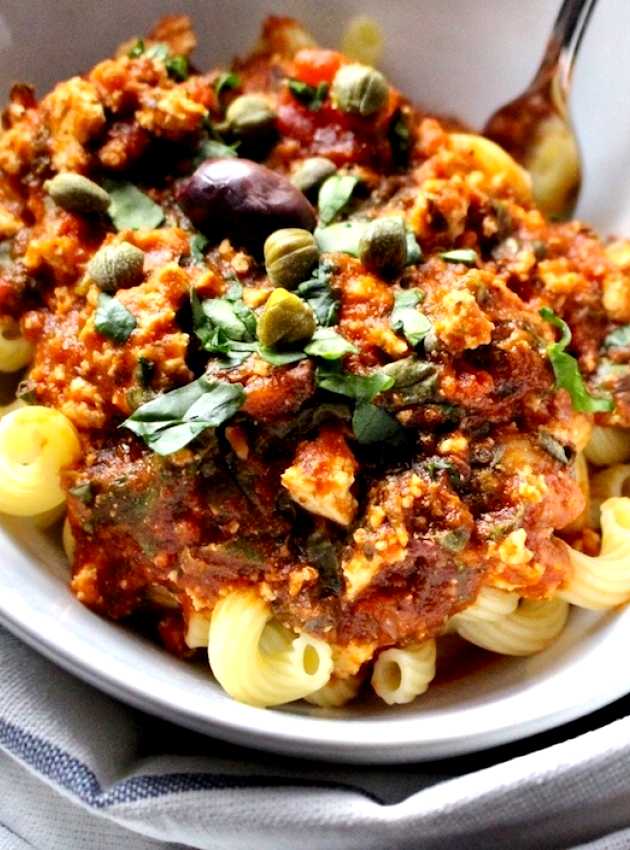 Indulge in the robust flavors of this classic Italian sauce, enhanced with tofu for a plant-based twist. Easy to make and packed with savory goodness, it's a must-try for pasta lovers!
Ingredients
2 jars of tomato sauce of about 650ml, low sodium (preferably pomodoro, marinara or tomato basil)
454 g (1 block) of firm tofu
½ garlic head
250 ml (1 cup) sliced Kalamata olives
60 ml (¼ cup) of coarsely chopped capers
Cayenne peppers to taste
1 250 ml (5 cups) packed spinach, coarsely chopped
Preparation
In a large saucepan, heat the two jars of sauce over medium heat.
Cut the garlic cloves into thin slices and stir into the sauce.
Simmer the garlic cloves in the sauce until they become translucent and tender. About 25-30 minutes. Stir occasionally. Add water as needed if the texture becomes too thick. Cover the pan to keep as much liquid as possible.
In the meantime, prepare the other ingredients of the recipe. Chop the tofu block with a food processor or with a knife, slice the Kalamata olives, coarsely chop the capers and spinach.
Once the garlic is tender, add all the other ingredients and simmer for approximatly 5 minutes. Enjoy on pasta, rice or quinoa.