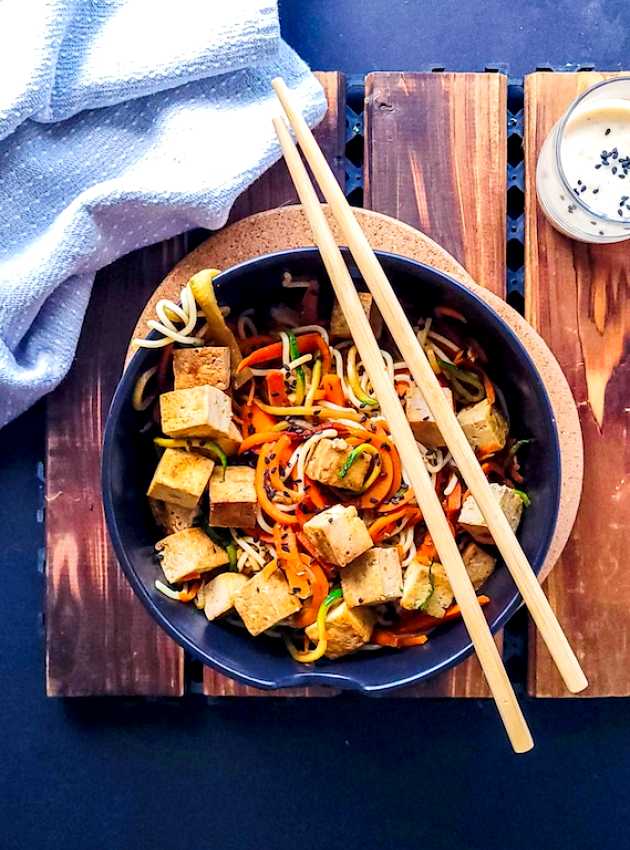 Dive into a balanced culinary experience with this tofu and brown rice noodle salad bowl. This delicious and nutritious recipe is not only high in fiber but also suitable for your weight loss journey. Experience the perfect blend of flavors and wellness for a fulfilling meal. Enjoy your meal!
Ingredients
¾ of a block of extra-firm tofu (about 380g), cut into 1-inch cubes
3 tablespoons low-sodium soy sauce
1 large green zucchini, julienned*
2 large carrots, julienned*
1 nest (about 70g) of brown rice noodles
5 ml (1 tsp) toasted black sesame seeds
For the sauce:
30 ml (2 tbsp) tahini (sesame butter)

30 ml (2 tbsp) water

15 ml (1 tbsp) lime juice

7,5 ml (½ tbsp) fish sauce

7,5 ml (½ tbsp) honey

2,5 ml (½ tsp) garlic paste (or chopped garlic)

1 ml (1 tsp) Sriracha, or similar hot sauce

Pepper and salt, to taste
Note: If you have a spiralizer, I suggest using it to cut the zucchini and carrots to save time and for a uniform result.
Preparation
In a large skillet over medium heat, spray with cooking oil and grill the tofu for 2-3 minutes, stirring frequently. 
Reduce to medium-low heat, add the vegetable juliennes and soy sauce, and continue cooking for 5 minutes. 
Meanwhile, cook the noodles according to the package instructions. Rinse with cold water and drain well. 
In a large bowl, mix the sauce ingredients. Combine all ingredients and let stand for 2 minutes. Top with sesame seeds and enjoy!
Notes
Keeps for 5 days in the refrigerator, in an airtight container. Freeze for up to 3 months, without the sauce. The sauce should not be frozen.