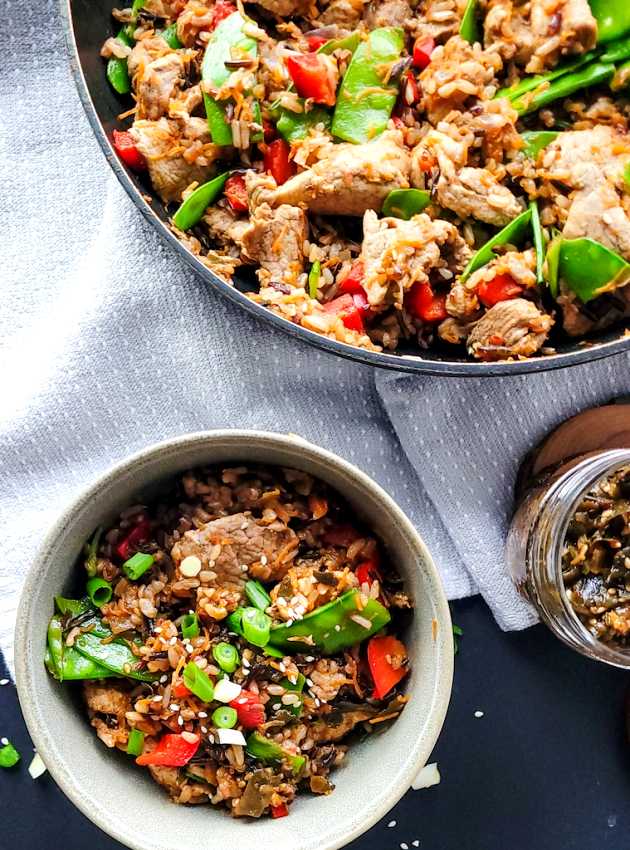 Discover this flavourful dish, rich in fibre to promote satiety and ideal for weight management. The addition of kimchi, an excellent fermented food, adds a layer of digestive health benefits. A delicious and beneficial combination for your health! 
Bon appétit!
Ingredients
15 ml (1 tbsp) vegetable oil

½ red onion, sliced

1 ⅓ lb (600 g) pork tenderloin, thinly sliced about 2-3 mm (see Note)

500 ml (2 cups) cooked wild rice blend (or ⅔ cup uncooked rice)

500 ml (2 cups) snap peas, trimmed and halved

250 ml (1 cup) grated carrots

1 red bell pepper, diced

15 ml (1 tbsp) soy sauce

250 ml (1 cup) kimchi (such as Seabiosis)

2 green onions, chopped

15 ml (1 tbsp) toasted sesame seeds, to taste
Note: You can also use fondue pork meat.
Preparation
In a large skillet over medium heat, sauté the onions in the oil for 1 to 2 minutes.
Add the pork tenderloin and cook for 2 to 3 minutes per side.
Stir in the cooked rice, snap peas, carrots, bell pepper, and soy sauce. Continue cooking for 2 minutes.
Turn off the heat and incorporate the kimchi and its juice. *
Garnish with green onions and sesame seeds.
*It's important to turn off the heat before adding the kimchi to preserve the beneficial live bacteria.
Notes
Keeps for 5 days in the refrigerator in an airtight container. Freezes for up to 3 months.