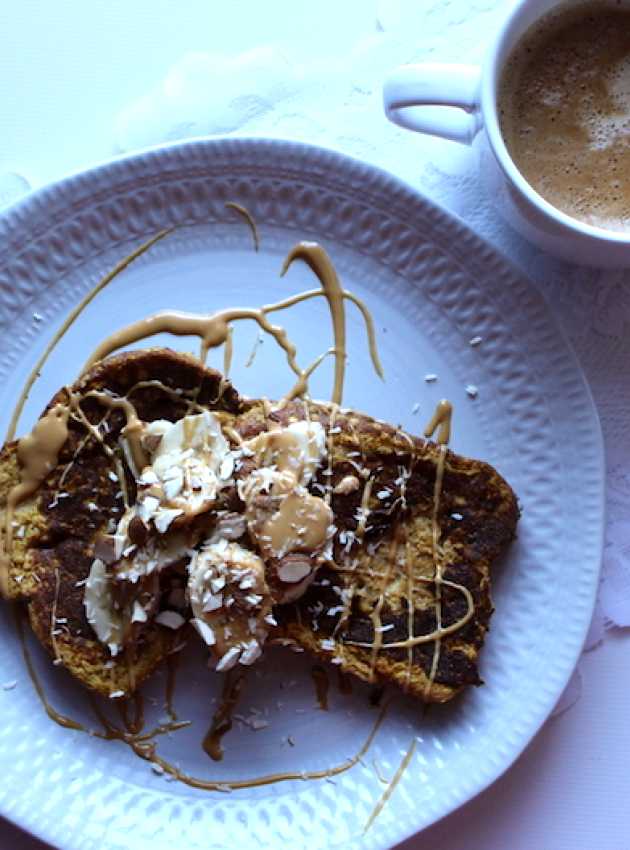 Experience a delightful autumnal twist with our recipe for Squash French Toast. Savor each bite of this comforting breakfast, where the sweetness of squash perfectly complements the classic French toast. A unique treat to try right away.
Ingredients
Ingredients
60 ml (1/4 cup) butternut squash puree (see preparation steps)
2 eggs
60 ml (1/4 cup) vanilla-flavored soy or almond milk
2.5 ml (1/2 tsp) cinnamon
4 slices of bread
10 ml (2 tsp) margarine or oil
Topping
1 banana, sliced into rounds
A pinch of shredded coconut
A pinch of chopped almonds (For a FODMAP-friendly version, replace almonds with pumpkin seeds)
30 ml (2 tbsp) natural peanut butter
30 ml (2 tbsp) maple syrup
Other ideas: sliced apples, sliced pears, chopped pecans, almond butter, blueberries, pumpkin seeds, Greek yogurt, etc.
Preparation
Butternut Squash Puree
1. Bake the halved butternut squash in the oven at 400°F for approximately 40 minutes.
2. Transfer the cooked squash flesh to a blender and blend until smooth.
French Toast
1. In a bowl, whisk together the butternut squash puree, egg, milk, and cinnamon.
2. Place the bread slices in the mixture, allowing them to soak for a few seconds on each side.
3. In a skillet, melt the margarine over medium heat, then place the soaked bread slices. Cook for about 3 to 4 minutes on each side until golden brown.
4. Transfer the golden brown toast to plates and add your choice of toppings.
Notes
You can freeze the butternut squash puree in small containers and take it out whenever you want to make a soup, a sauce, or for this French toast recipe!