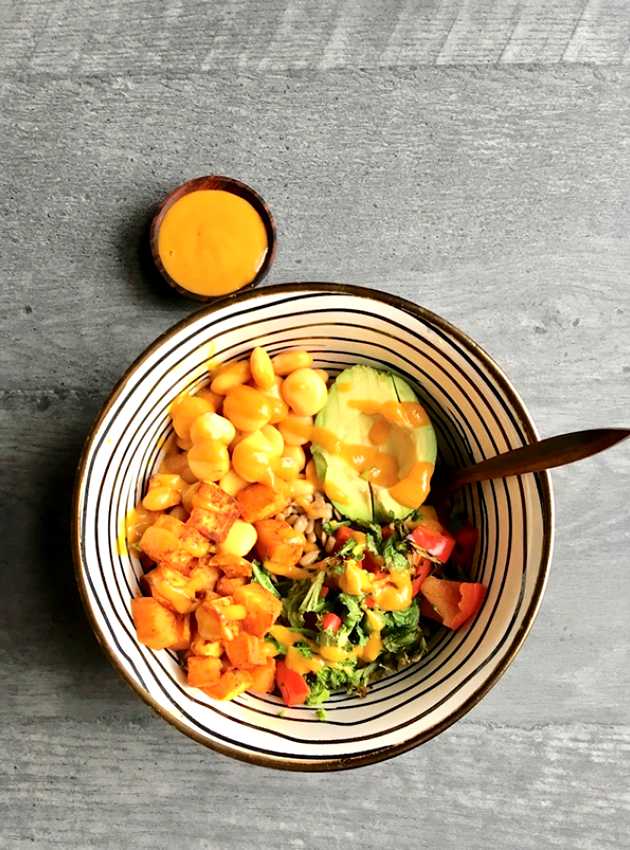 Dive into our original creation: the Quinoa Bowl with its flavorful Spicy Mango Sauce. Let yourself be seduced by the perfect balance between the fluffy texture of quinoa and the spicy kick of mango sauce, for a unique and delightfully exotic culinary experience.
Ingredients
1 sweet potato, diced
15 ml (1 tbsp.) of oil
5 ml (1 tsp.) of smoked paprika
Salt and pepper to taste
Chopped rapini
1 red bell pepper, diced
1 clove of garlic, minced
500 ml (2 cups) of cooked quinoa
2 small avocados, sliced
250 ml (1 cup) of lupini beans (or chickpeas)
15 ml (1 tbsp.) of sunflower seeds
For the Spicy Mango Sauce
1 mango, diced
5 to 10 ml (1 to 2 tsp.) of sambal oelek
5 ml (1 tsp.) of turmeric
15 ml (1 tbsp.) of lemon juice
15 ml (1 tbsp.) of freshly grated ginger
15 ml (1 tbsp.) of toasted sesame oil
10 ml (2 tsp.) of maple syrup
30 ml (2 tbsp.) of water
Salt and pepper to taste
Preparation
Preheat the oven to 220°C (425°F). 
Spread the sweet potatoes on a parchment-lined baking sheet. 
Add the oil, smoked paprika, salt, and pepper, and mix well. 
Bake for approximately 35 minutes or until the sweet potatoes are tender. 
After 15 minutes of cooking, remove from the oven and add the rapini, red bell pepper, and garlic. Drizzle with a little oil and return to the oven. 
Divide the cooked quinoa into 4 bowls and top with avocado slices, lupini beans, and sunflower seeds. 
Place all the sauce ingredients in a blender and blend for a minute. 
Add a little water if the consistency is too thick. Add the roasted sweet potatoes, rapini and bell pepper mixture to the bowls. Garnish with the sauce.