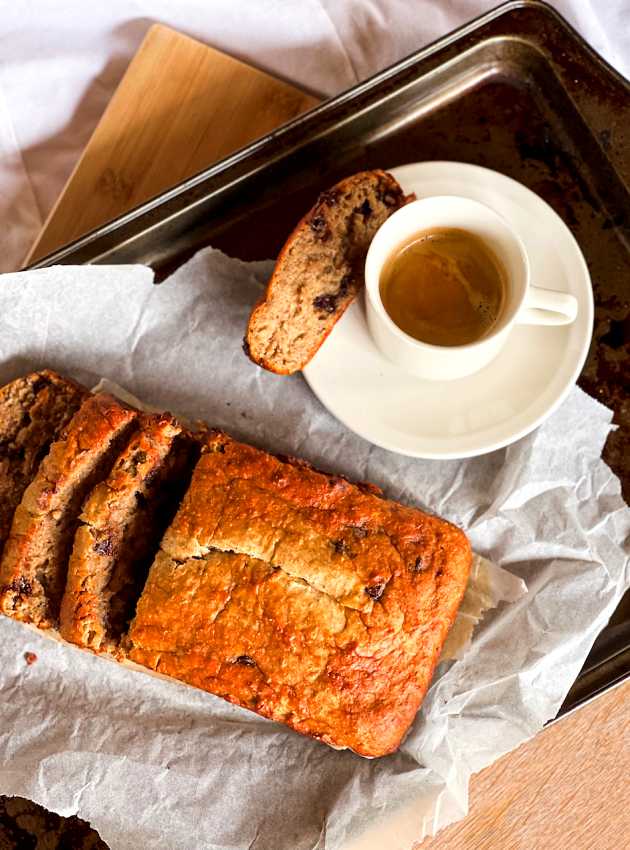 Welcome to all the health-conscious food lovers! Discover a delicious banana bread, packed with protein, a perfect fusion of indulgence and nutrition. This recipe is enriched with baby cereal to boost iron content. Enjoy it as a snack or dessert!
Ingredients
3 ripe bananas, mashed

375 ml (1 ½ cups) whole wheat flour

125 ml (½ cup) multigrain baby cereal

125 ml (½ cup) unflavored collagen powder or other protein

125 ml (½ cup) plain 0% Greek yogurt

80 ml (⅓ cup) water

80 ml (⅓ cup) ground flaxseed

30 ml (2 tablespoons) brown sugar

5 ml (1 teaspoon) baking soda

3.5 ml (¾ teaspoon) baking powder

3.5 ml (¾ teaspoon) salt

2.5 ml (½ teaspoon) cinnamon

Chocolate chips, optional
Preparation
Preheat the oven to 350°F (175°C).

Grease a 9x5-inch loaf pan and line the bottom with parchment paper.

In a large bowl, combine all the ingredients.

Transfer the mixture to the loaf pan and bake for 40 minutes.

Turn off the oven and leave the banana bread in the closed oven for an additional five minutes.

Allow it to cool, then run a knife along the sides and turn it out onto a plate.
Enjoy!
Notes
Store in the refrigerator for up to 7 days and in the freezer for up to 3 months.