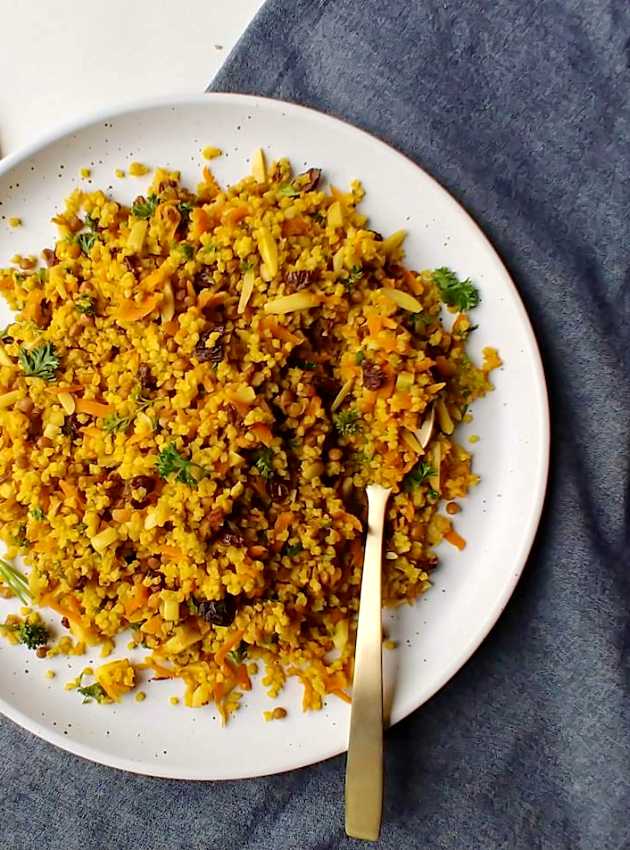 Discover our delicious gluten-free Moroccan millet recipe, an exquisite blend of spices and textures. Experience a fusion of authentic flavors and an exceptional nutritional option.
Ingredients
15 ml (1 tbsp) canola oil
1 French shallot, minced
2 cloves garlic, finely chopped (or 10 ml / 2 tsp) minced garlic in a jar
1 ml (1/4 tsp) cumin
1 ml (1/4 tsp) turmeric
0.5 ml (1/4 tsp) ground ginger
0.5 ml (1/4 tsp) ground cinnamon
125 ml (1/2 cup) hulled millet, rinsed
375 ml (1 ½ cups) no-salt-added vegetable broth or water
1 medium carrot, grated (about 125 ml / ½ cup)
125 ml (1/2 cup) canned lentils, rinsed and drained
60 ml (1/4 cup) dried raisins, dates or apricots, chopped 
60 ml (1/4 cup) slivered almonds 
Juice of 1/2 lemon (about 30 ml / 2 tbsp)
1 large handful of fresh parsley, finely chopped
Pepper and salt
Preparation
In a saucepan, heat the oil over medium heat, then add the shallot and garlic. Cook for about 3 minutes, stirring, or until the shallot is translucent.
Reduce heat to low and add cumin, turmeric, ginger and cinnamon. Stir for about 1 minute.
Add millet and stir to coat well.
Add broth and bring to a boil over high heat. Stir.
Reduce heat to low, cover and simmer for 25 minutes or until grains are tender. Add carrot, lentils and raisins, cover again and let stand for 10 minutes off heat.
Using a fork, scrape millet to separate the grains.
Transfer to a large bowl. Add almonds, lemon juice and parsley. Season with pepper and salt, if desired, and mix well.
Serve with meat or fish or add more lentils and almonds for a vegetarian meal.
Notes
Can be kept for 5 days in the refrigerator and does not freeze.