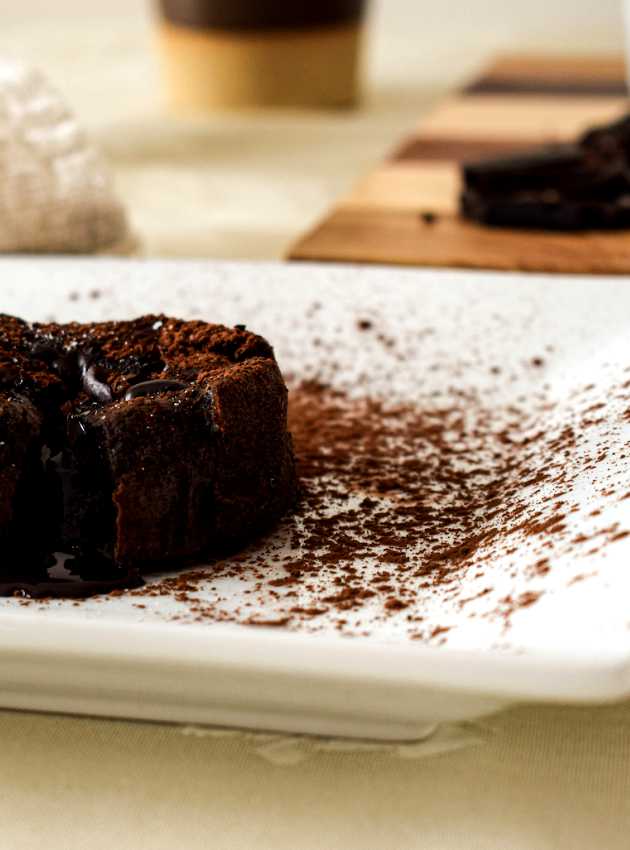 Perfect to impress your spouse, for a festive dinner with friends or to please the kids, this chocolate cake with a melting heart will delight you by its ease and its decadent taste! Be careful not to forget to put it in the oven, if you want a runny center, you have to watch the cooking. Enjoy!
Ingredients
2 large eggs
45 ml (3 tbsp) maple sugar or white sugar
5 ml (1 tsp) vanilla extract
60 ml (¼ cup) semi-sweet chocolate to melt
30 ml (2 tbsp) coconut oil or butter, plus more for oiling the ramekins
15 ml (1 tbsp) milk
30 ml (2 tbsp) flour
30 ml (2 tbsp) cocoa powder, plus more for dusting
15 ml (1 tbsp) cornstarch
5 ml (1 tsp) instant espresso coffee
1 pinch of salt
1 square (10 g) quality dark chocolate, cut in 4
Note: You can easily double the recipe to get 6 servings if you have more people.
Preparation
Preheat the oven to 400°F (200°C).
Oil 3 ramekins with a capacity of about 125 ml (½ cup). Cut out strips of parchment paper about 1 ½ cm wide and place 2 in a criss-cross pattern on the bottom of each pan. Set aside.
In a bowl, whisk the eggs with the sugar, add the vanilla and mix until the volume in the mixture increases.
In a microwave, melt the chocolate with oil and milk for about 30 seconds. Mix with a spoon until smooth.
In a small bowl, combine the remaining ingredients, except the dark chocolate. Set aside.
Alternate mixing the melted chocolate and flour mixture with the eggs.
Divide the mixture among the ramekins and place a square of chocolate in the center, pushing slightly so that it disappears under the mixture. Keep the last little square for yourself and enjoy as soon as you feel like it!
Bake for 10 minutes, or until the top of the cakes are cooked. The center of the cakes should be runny.
Remove from oven and let stand for 5 minutes before tipping and serving. Tug on parchment paper strips to loosen if necessary. Sprinkle with cocoa or powdered sugar for serving if desired.
*The parchment paper strips are very useful to facilitate unmolding. They should be slightly longer than the ramekin when you place them on the bottom so that you can pull on them to unmold the cake after going around with a knife to loosen the sides. It is still important that the ramekin be well oiled beforehand.
Notes
Can be kept 3-5 days in the refrigerator, but is best eaten directly after cooking.

Can be kept cooked for 3 months in the freezer.