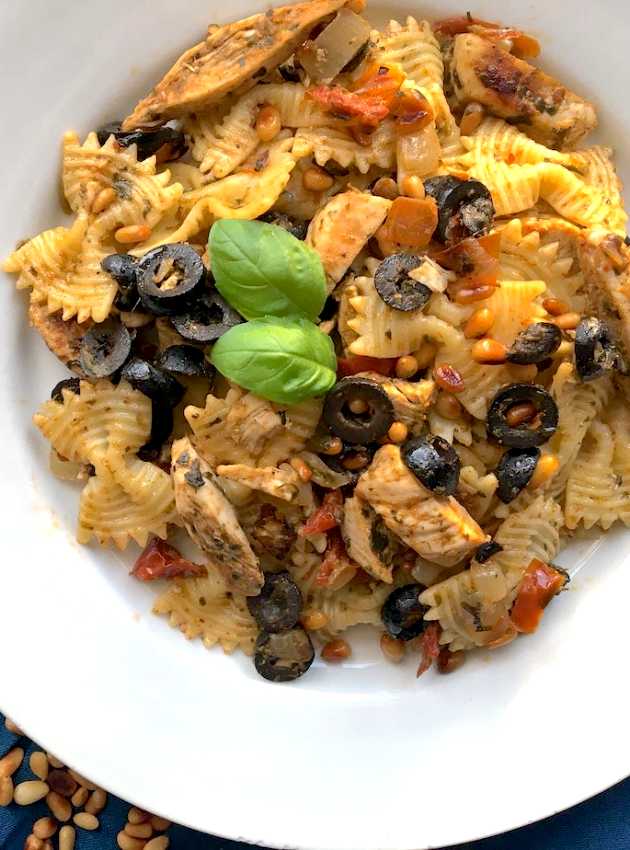 Experience Mediterranean flavors like never before with our Pesto Chicken Mediterranean Pasta recipe. Delight in the exquisite blend of pesto-infused chicken and pasta that transports your taste buds to the heart of the Mediterranean.
Ingredients
300 g short pasta (fusilli, rotini, farfalle, etc.)
80 ml (⅓ cup) pine nuts
1 onion, chopped
15 ml (1 tbsp) olive oil
80 ml (⅓ cup) pesto
80 ml (⅓ cup) sodium-reduced tomato sauce
60 ml (¼ cup) sun dried tomatoes in oil, chopped
3 cooked chicken breasts (about 600 g), cut into large pieces
1 can (375 ml) sliced black olives, rinsed and drained
Parmesan cheese, to taste (optional)
Chopped fresh basil, to taste (optional)
Preparation
In a saucepan, cook pasta according to package directions. Drain.
Meanwhile, in a large skillet, place pine nuts and dry roast over medium-high heat, stirring often, until nuts are golden brown, about 3 minutes. Set aside in a bowl.
In the same large skillet, sauté onion in olive oil over medium-high heat.
When onion is cooked, add pesto, tomato sauce, sun-dried tomatoes, chicken and olives. Mix well.
Add pasta and pine nuts. Mix gently.
If desired, garnish with parmesan and basil just before serving.
Notes
Can be kept for 3 days in the refrigerator. Does not freeze.