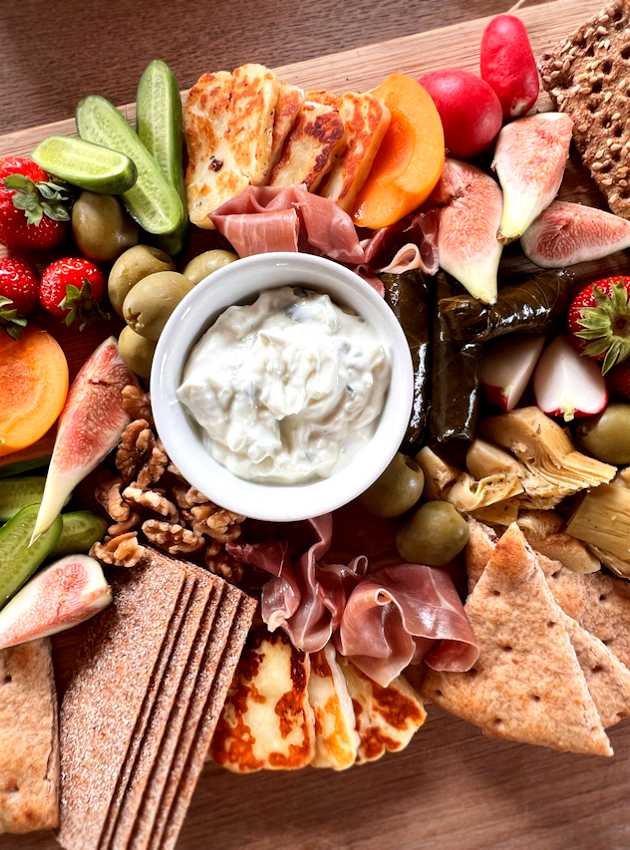 For your next get-together, don't reach for the bag of chips. Discover our delightful mezze platter, a diverse selection of Mediterranean dishes that will delight your guests. Perfect for sharing and savoring authentic flavors!
 
Ingredients
2 apricots
2 large fresh figs, washed
3 radishes
6 stuffed grape leaves (dolmas)
6 mini Lebanese cucumbers
125 ml (½ cup) Quebec strawberries, washed
1 small jar (170 g) marinated artichoke hearts
3 thin slices (30 g) nitrate-free prosciutto
12 garlic-stuffed olives
12 crackers of your choice (we chose Ryvita and Finn Crisp types)
60 ml (¼ cup) unsalted walnuts
60 ml (¼ cup) yogurt-based tzatziki sauce
3.5 oz (100 g) halloumi cheese, sliced lengthwise
½ multigrain pita bread, cut into 6 wedges
Note: You can personalize your platter by adding other accompaniments of your choice, such as cheese slices, marinated vegetables, or extra dips.
Preparation
Slice the fruits and vegetables as you prefer.
Arrange each ingredient (except for halloumi and pita bread) on a large plate or platter to create a true Mediterranean feast.
In a nonstick skillet, cook the halloumi over medium heat for 2-3 minutes on each side or until both sides are golden. Set aside.
In the same hot skillet, heat the pita wedges for 30 to 60 seconds on each side and set aside.
Add the halloumi and pita wedges to your platter and serve immediately.
Notes
Enjoy the diversity of flavors and textures as you savor them with your guests. Bon appétit!