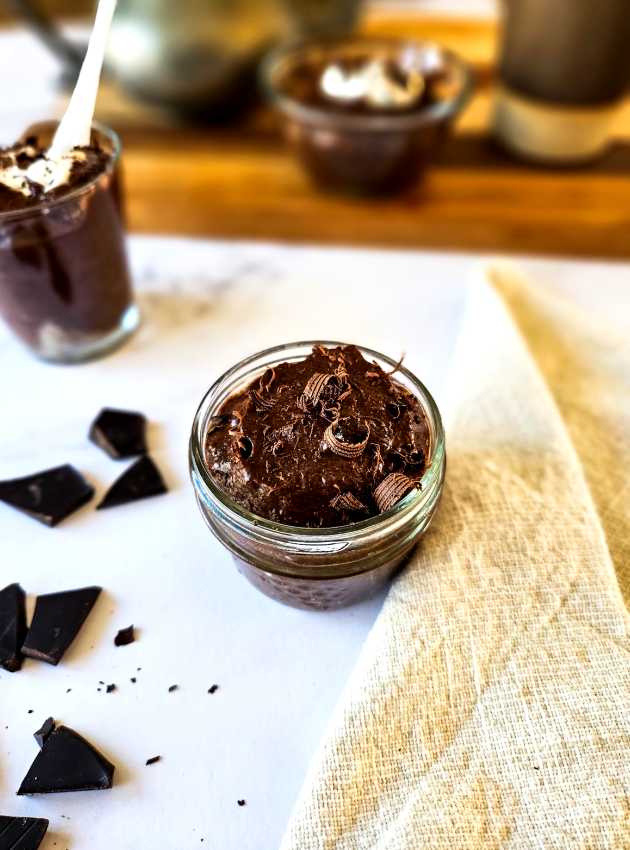 For a quick and easy chocolate dessert, you'll be delighted by this low-sugar chocolate mousse. Light and filling, it contains 18g of protein and 9g of fiber, making it a wonderful treat for those with a sweet tooth without spiking your blood sugar!
Ingredients
1 avocado

105 ml (7 tbsp) unsweetened enriched soy milk (or 2% milk)

60 ml (¼ cup) cocoa powder

1 ½ scoops (45g) chocolate protein powder

22 ml (1 ½ tbsp) chia seeds

22 ml (1 ½ tbsp) maple syrup

5 ml (1 tsp) vanilla extract

2.5 ml (½ tsp) instant coffee powder, optional

A pinch of salt

60 ml (¼ cup) carton egg whites
Note: If you don't have protein powder, you can use skim milk powder and add 1 tablespoon of maple syrup, or add ½ a banana for sweetness without adding too much concentrated sugar.
Preparation
Place all ingredients, except egg whites, in a food processor and blend until smooth and homogeneous.

In a small bowl, place the egg whites and whip until stiff peaks form using an electric mixer.

Add the egg white mixture to the avocado mixture and gently fold the mixture with a spatula. Divide the mousse into 3 small serving bowls and enjoy on the same day if possible.
Notes
Can be stored in an airtight container in the refrigerator for up to 3 days, but is best consumed on the same day.