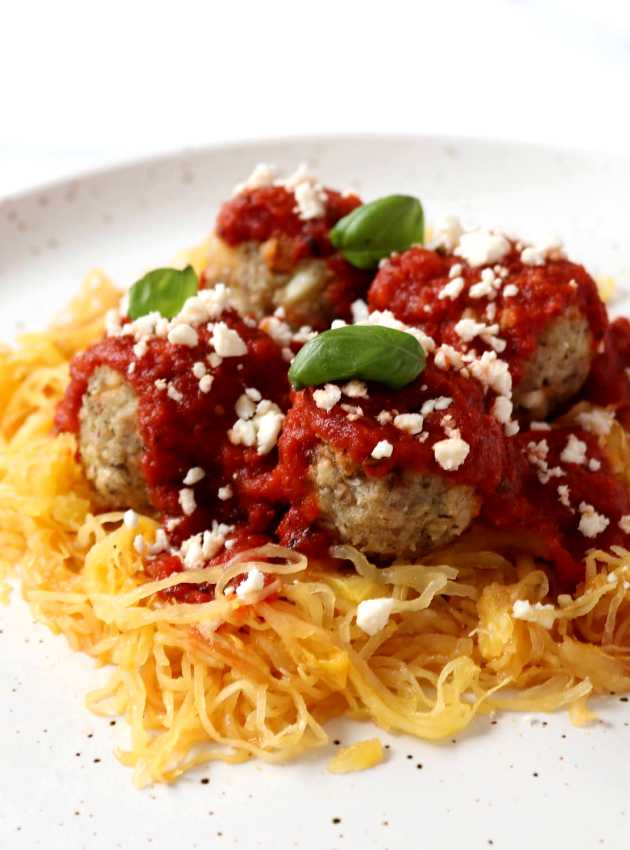 Discover our delicious recipe for Italian-style Pork and Buckwheat Meatballs. These flavorful meatballs perfectly combine the tenderness of pork with the distinct texture and taste of buckwheat, delivering an authentic Italian culinary experience. Get ready to indulge in these mouthwatering pork and buckwheat meatballs with irresistible Italian aromas.
Ingredients
125 ml (½ cup) raw hulled buckwheat (kasha), rinsed (see Notes)
250 ml (1 cup) water
227 g (½ lb) lean ground pork
75 g (½ cup) light feta cheese, crumbled
60 ml (¼ cup) oat flour or rolled oats reduced to flour (see Gluten-Free Notes)
7.5 ml (½ tbsp) Italian seasoning
7.5 ml (½ tbsp) baking powder
Pepper, to taste
1 large spaghetti squash (optional)
Notes: Buckwheat is a naturally gluten-free pseudo-cereal that is rich in fiber, antioxidants, vitamins and minerals. Buckwheat can be found in various forms, including flour and grains. For this recipe, buckwheat is used in grain form. To save time, you can prepare it in advance. The cooked grains can also be frozen for later use.
This recipe can be made completely gluten-free for people with celiac disease or gluten intolerance. Just choose certified gluten-free (no cross-contamination) buckwheat, oats, spices and nutritional yeast.
Preparation
Preheat the oven to 400°F (200°C). Place the rack in the center of the oven. Line a large baking sheet with parchment paper or a reusable baking sheet.
Place buckwheat and water in a medium saucepan. Bring to a boil. Reduce heat to low, cover and simmer for 20 minutes or until water is fully absorbed and grains are tender. Add more water if necessary. Set aside.
In a large bowl, place pork, feta cheese, oatmeal, Italian seasoning, baking powder and buckwheat. Season generously with pepper and knead with your hands to incorporate all the ingredients together.
With lightly oiled hands, shape about 30 mL (2 tablespoon) of the meat mixture into balls. Place meatballs on a baking sheet. Bake for 20 minutes or until internal temperature of 71°C (160°F), turning meatballs halfway through cooking.
Serve with spaghetti squash (see Tip) or pasta and our Italian-style tomato sauce. Garnish with feta cheese and basil leaves if desired.
Tip: To prepare spaghetti squash, take advantage of the cooking time of buckwheat. Cut the squash into 2.5 cm (1 in.) thick slices, then place them on the baking sheet and brush with oil. Bake at 200°C (400°F) for 25 minutes or until easily flaked.
Notes
Can be kept for 3 days in the refrigerator and 2 months in the freezer.