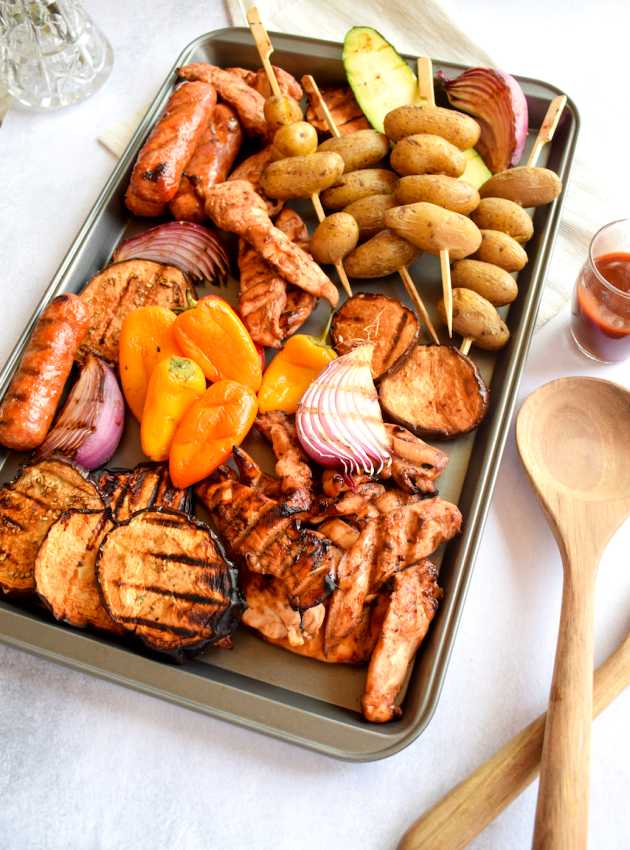 It's BBQ time! This recipe is perfect for gatherings with friends. There's nothing better than a shared meal with loved ones and great weather! Enjoy!
Ingredients
12 baby potatoes
4 wooden skewers, soaked in water
2 chicken breasts, cut into large cubes
30 ml (2 tbsp) olive oil
3 chicken sausages
8 mini colorful peppers
1 red onion, cut into quarters
1 zucchini, sliced lengthwise
1 small eggplant, sliced into rounds
Homemade BBQ Sauce:
30 ml (2 tbsp) ketchup
30 ml (2 tbsp) reduced-sodium soy sauce
7.5 ml (1/2 tbsp) BBQ spice blend
7.5 ml (1/2 tbsp) maple syrup
5 ml (1 tsp) smoked paprika
Pepper, to taste
Note: Take the opportunity to visit your local butcher and support local producers for the meat, as well as local farmers' markets or stands for the vegetables. You can add any vegetables you like, such as asparagus or mushrooms. You can also double the BBQ sauce recipe to have extra for dipping the vegetables and meat during serving.
Preparation
Bring a large pot of water to a boil. Add the baby potatoes and cook for 10-12 minutes until tender but not fully cooked. Let them cool.
Thread the baby potatoes onto the wooden skewers.
In a bowl, prepare the BBQ sauce by mixing together the ketchup, soy sauce, BBQ spice blend, maple syrup, smoked paprika, and pepper. Marinate the chicken in this sauce.
Preheat the BBQ grill to high heat.
Drizzle the skewered potatoes and vegetables with olive oil, then season with salt and pepper.
Reduce the grill heat to medium and cook the chicken and sausages for 15 to 20 minutes, turning occasionally and brushing with the remaining BBQ sauce. Ensure the internal temperature of the chicken reaches 74°C (165°F).
Add the vegetables and potato skewers after 10 minutes of cooking the meat. Cook for 8 to 10 minutes until tender and lightly charred, turning occasionally.
Remove the meat from the grill and let it rest for 5 minutes on a clean plate.
Cut the sausages and arrange the meat on a serving plate with the grilled vegetables. Serve with additional BBQ sauce if desired.
Notes
Can be stored for 2 days in an airtight container in the refrigerator or for 4 months in the freezer.