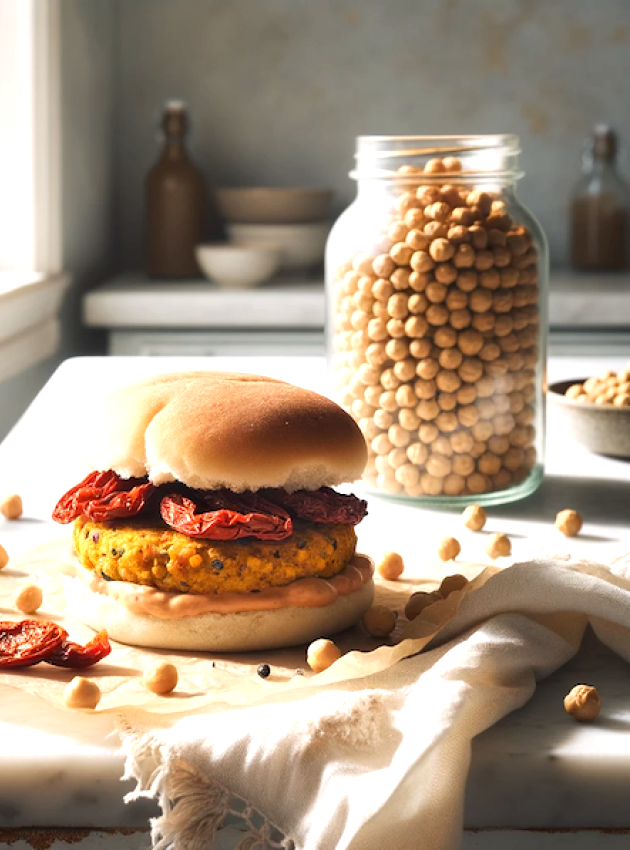 Discover our mouthwatering recipe for Chickpea and Sun-Dried Tomato Burgers. Indulge in this flavorful vegetarian burger with a perfect texture and a burst of taste from the sun-dried tomatoes. A healthy and delicious choice for burger lovers.
Ingredients
500 mL (2 cups) cooked chickpeas
1 medium onion, chopped
2 to 3 cloves of garlic, finely chopped
45 mL (3 tbsp.) sun-dried tomatoes
250 mL (1 cup) pecans or other nuts
2 sage leaves
Salt and pepper to taste
Olive oil for cooking
Preparation
Place all ingredients except for salt, pepper, and olive oil in a food processor. Pulse a few times, then coarsely puree the mixture. 
Season with salt and pepper. Continue mixing to achieve a smoother consistency. 
Transfer to a bowl and cover. Refrigerate for 1 hour to slightly firm up the mixture for easier shaping. 
Preheat the oven to 400°F. Shape the mixture into burgers using your hands (approximately 6 patties, 0.5 inch thick) and place them on a parchment-lined baking sheet. 
Brush both sides of the burgers with olive oil, then bake in the oven for 30 to 35 minutes.
Notes
You can freeze the raw burgers.