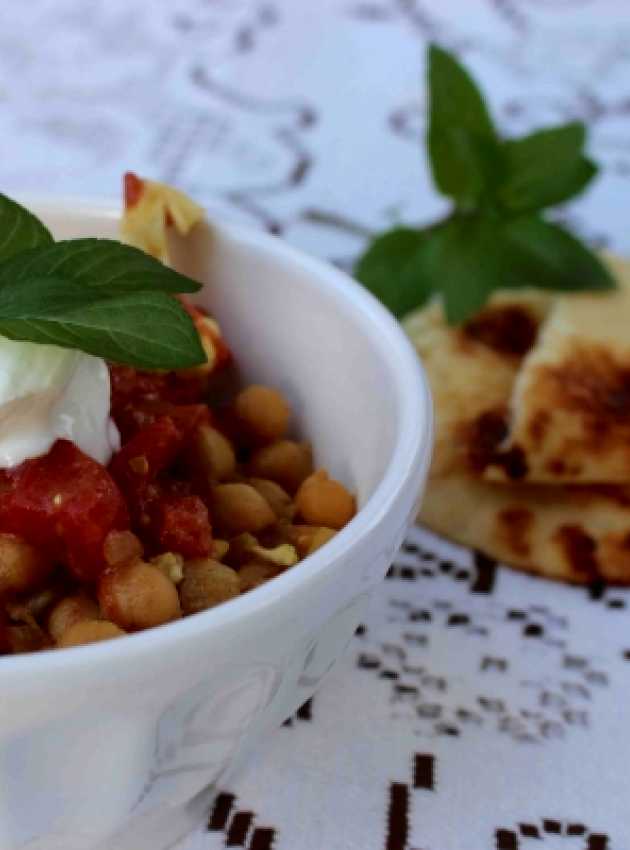 Discover our flavorful recipe for Chana Masala, a spicy vegetarian Indian dish featuring chickpeas. This delightful combination of exotic flavors and delightful textures will transport you straight to India. Try it now for an authentic culinary experience!
Ingredients
1 diced onion 
5 ml (1 tsp) of oil 
15 ml (1 tbsp) fresh ginger or 5 ml (1 tsp) ground ginger 
2 cloves garlic minced 
1 can of diced tomatoes (796 ml) 
1 can of chickpeas (540 ml) 
10 ml (2 tsp) Gram Masala 
5 ml (1 tsp) cumin 
30 ml (2 tbsp) soy sauce 
5 ml (1 tsp) of sriracha (optional) 
10 ml (2 tsp) ground curry 
 250 ml (1 cup) of milk (cow, soy, or unsweetened almond) 
1 cauliflower in small bouquets 
250 ml (1 cup) uncooked basmati rice 
Some mint leaves 
5 ml (1 tsp) Greek yogurt per serving (optional) 
Naan bread to accompany (optional)
Preparation
In a large non-stick skillet over medium heat, heat 1 tbsp of oil and cook the onion for about 7 minutes or until it is lightly golden brown, stirring occasionally. 
Put the onions in the slow cooker and all the other ingredients except for the rice and mint.
Simmer for about 3 hours at high temperature or overnight at low temperature.
In a pot of boiling water, cook the basmati rice as indicated on the package.
Put the Chana Masala in a bowl and add Greek yogurt on top with mint leaves.