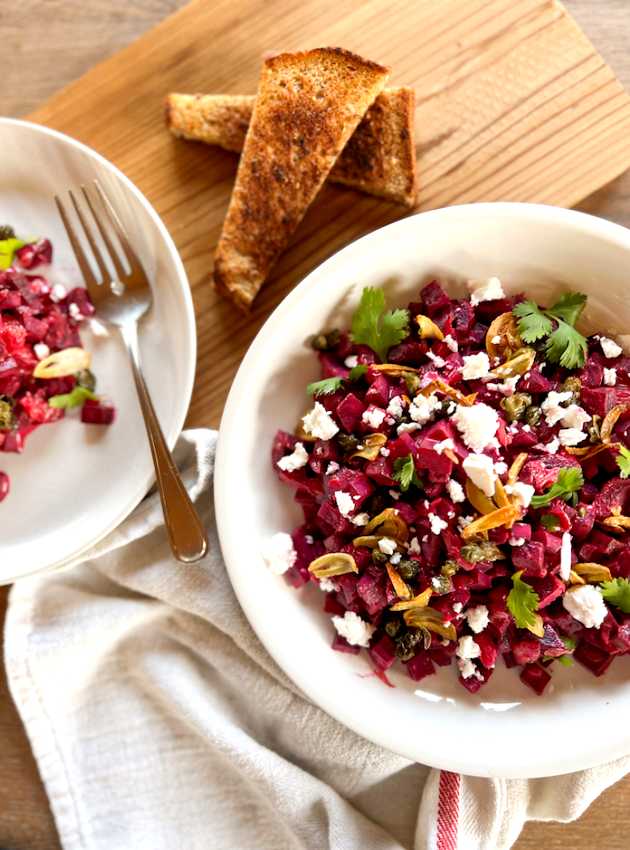 Discover our delicious beet and grapefruit tartare, a bold fusion of Mediterranean flavors. Perfect for entertaining guests while offering a healthy and balanced dish! A refreshing appetizer that will delight your taste buds!
Ingredients
30 ml (2 tbsp) extra-virgin olive oil (reserved from frying)
30 ml (2 tbsp) capers
4 large garlic cloves, thinly sliced lengthwise
1 lb (450 g) cooked beets, cut into ½ cm cubes
1 small shallot, finely chopped
15 ml (1 tbsp) apple cider vinegar
15 ml (1 tbsp) mayonnaise
10 ml (2 tsp) Dijon mustard
1 ml (¼ tsp) salt
45 ml (⅓ cup) grapefruit supreme, cut into ½ cm cubes
15 ml (1 tbsp) finely chopped cilantro
15 ml (1 tbsp) crumbled feta cheese
Preparation
In a small skillet over medium heat, heat the oil with the capers and garlic. Adjust the temperature to keep the oil simmering, for about 8 to 12 minutes, or until the garlic is golden and the capers burst.
Drain and set aside the garlic and capers, separately from the oil.
In a medium bowl, mix the beets, shallot, reserved olive oil, mayonnaise, Dijon mustard, apple cider vinegar, and salt.
Gently fold in the grapefruit segments into the beet mixture.
Cover and let marinate in the refrigerator for 15 to 45 minutes.
Divide the beet mixture among 4 small plates.
Top each plate with cilantro, crumbled feta cheese, and the fried garlic and caper mixture.
Serve with crusty bread, vegetable chips, or enjoy as a fresh salad. Enjoy!
Notes
Can be stored in the refrigerator for 2-3 days. Does not freeze.