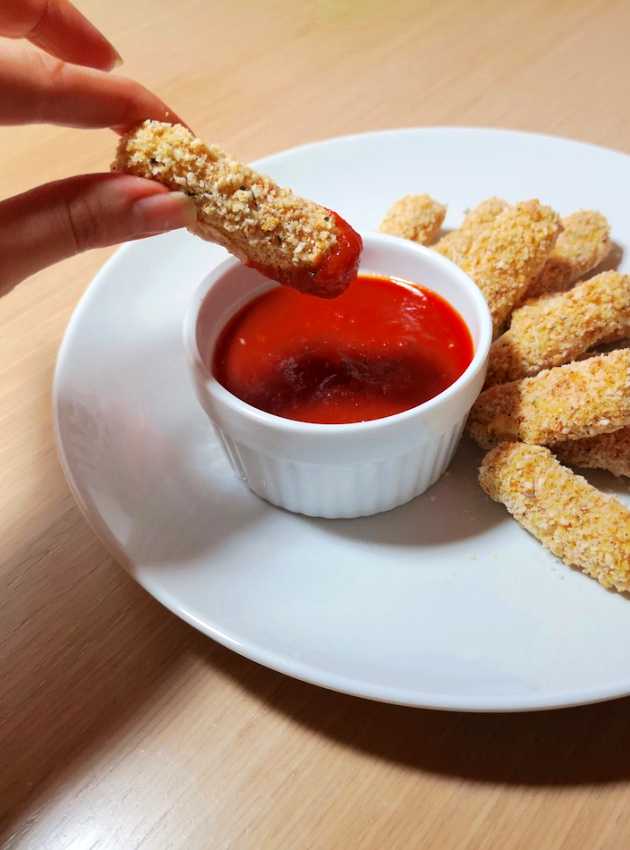 Discover our irresistible recipe for baked cheese sticks, offering the perfect combination of crispiness and melty cheese. A delicious treat to enjoy any time of the day.
Ingredients
8 mozzarella cheese sticks (18% fat), cut in half
125 ml (1/2 cup) flour
2 eggs
250 ml (1 cup) panko breadcrumbs
10 ml (2 tsp.) onion powder
10 ml (2 tsp.) garlic powder
5 ml (1 tsp.) Italian seasoning
2.5 ml (1/2 tsp.) chili powder
Pinch of salt
Marinara sauce
Preparation
Prepare 3 bowls. The first one with flour, the second one with beaten eggs, and the third one with panko, onion powder, garlic powder, Italian seasoning, chili powder, and salt.
Dip the half mozzarella sticks into the flour, then into the beaten eggs, and finally into the breadcrumb mixture. Ensure they are well coated.
Dip the same mozzarella stick halves again into the beaten eggs and then back into the breadcrumb mixture. Repeat with the remaining mozzarella stick halves.
Freeze the cheese sticks for at least 1 hour before baking. This prevents the cheese from melting too quickly while the coating becomes crispy. This recipe can be prepared well in advance.
Place the cheese sticks on a baking sheet lined with parchment paper.
Bake in a preheated oven at 400°F for 5-8 minutes. Flip and bake for another 5-8 minutes or until the sticks are golden and crispy.
Serve with marinara sauce, either cold or heated.