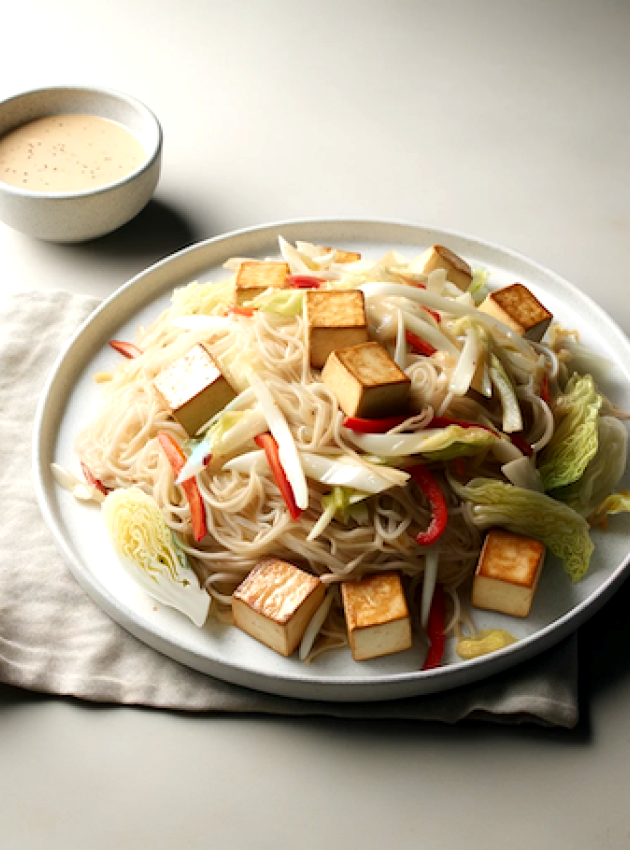 Introducing our Asian Stir-Fry recipe! This flavorful and balanced dish will captivate you with its marinated tofu triangles, vibrant mix of crunchy vegetables, and delicate rice vermicelli. The tahini-based dressing adds a creamy and aromatic touch that perfectly complements this explosion of Asian flavors.
Ingredients
2 chopped garlic cloves 
2 green onions 
454g of Tofu firm or semi-firm (1 block) cut into triangles 
5 ml (1 tsp) ground or fresh ginger
45 ml (3 tbsp) hoisin sauce 
30 ml (2 tbsp) soya sauce 
1 ml (¼ tsp) cayenne powder 
½ chopped cabbage 
1 red pepper in cubes About 
120 g of rice vermicelli 
15 ml (1 tbsp) grilled sesame oil 
30 ml (2 tbsp) rice vinegar 
30 ml (2 tbsp) water 
Salt and pepper for taste 
Sesame seeds (optional) 
Vinaigrette
30 ml (2 tbsp) Tahini (sesame butter) 
15 ml (1 tbsp) rice vinegar 
15 ml (1 tbsp) soy sauce 
5 ml (1 tsp) chopped garlic 
5 ml (1 tsp) honey
3 ml (½ tsp) ground ginger 
30 ml (2 tbsp) water
Preparation
In a skillet over medium heat, sauté 1 tsp. oil garlic and green onions for about 1 minute, then add the tofu. 
Cook the vermicelli in boiling water for 1 minute, and then drain it. 
Add ginger, hoisin sauce, soy sauce and cayenne powder and cook for about 5 minutes. Flip the tofu and cook for another 5 minutes. 
In another pan, put the chopped cabbage with water, vinegar, salt and pepper and cook it for about 7 minutes over medium heat, stirring occasionally. 
Make the vinaigrette by mixing all the ingredients with a small whisk or a fork. 
Spread vermicelli in a bowl and mix with a little vinaigrette. Then add the pepper cubes, cabbage and tofu.  To present the dish, you can put a dash of hoisin sauce on top and sesame seeds.