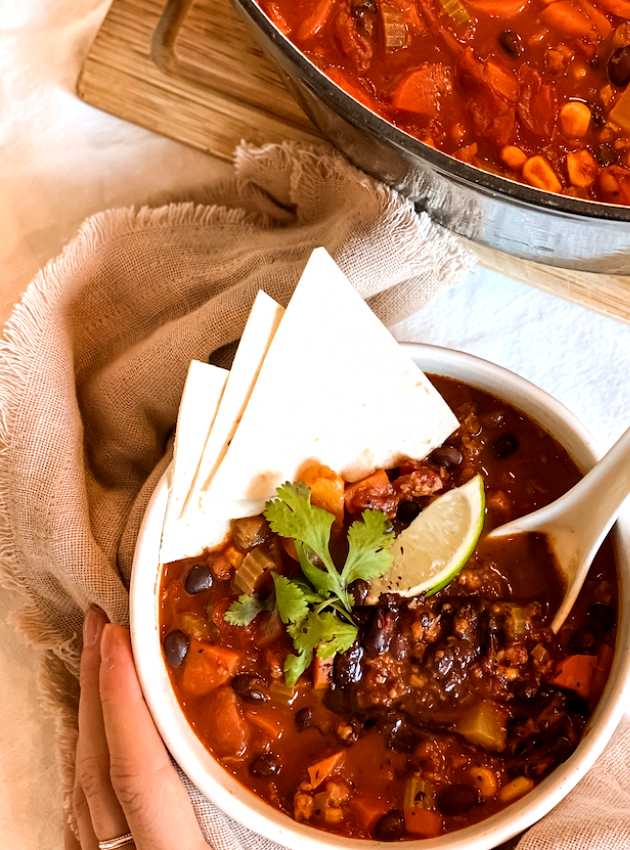 This flavor-packed dish combines a medley of vegetables and aromatic spices with a hint of chocolate for a unique and satisfying twist. Perfect for chili lovers seeking a delicious and meatless option.
Ingredients
15 ml (1 tbsp) vegetable oil
1 onion, chopped
2 cloves garlic, chopped
2 carrots, diced
2 celery stalks, diced
1 bell pepper, diced
340 g (1 package) GUSTA ground meatless meat (or other ground meat, cooked)
30 ml (2 tbsp) tomato paste
15 ml (1 tbsp) sriracha
15 ml (1 tbsp) chili powder
10 ml (2 tsp) smoked paprika
5 ml (1 tsp) ground cumin
750 ml (3 cups) low sodium vegetable broth
1 can (796 ml) diced tomatoes
1 can (540 ml) black beans, rinsed and drained
125 ml (½ cup) frozen corn
Topping
60 ml (¼ cup) chopped dark chocolate
6 lime wedges
2 tortillas, cut into triangles
Fresh cilantro (optional)
Preparation
In a large saucepan, brown onions and garlic in oil for 5 minutes over medium heat.
Add carrots, celery, bell pepper and the veggie ground and continue cooking for 5 minutes, stirring occasionally.
Add remaining ingredients. Cover and simmer on low heat for at least 30 minutes.
Divide into bowls and add chopped chocolate, fresh cilantro, tortillas and lime.