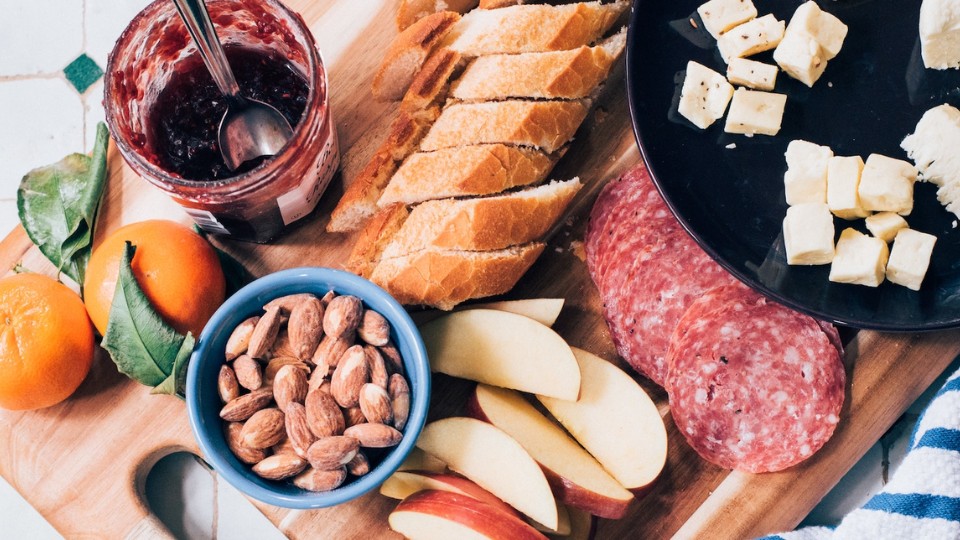 Do you often get hungry in the middle of the afternoon? Your stomach is hungry even though you've eaten a good lunch? It's quite possible that a snack can help you reduce your hunger and give you energy throughout the day! One, two, or even three snacks during the day will help you balance your hunger and satiety signals.
The ABC of Satisfying Snacks
To help you feeling full longer, a snack should ideally include a source of carbohydrates and a source of protein. Carbohydrates give you instant energy, while protein-rich foods satisfy your appetite until the next meal.
For a balanced diet, protein should provide 10-35% of your daily energy intake. Snacks are a good way to meet daily protein needs!
For example, choose an apple (~25 g of carbohydrates), and a 50 g serving of firm cheese (~10 g of protein), for a balanced and satisfying snack. It's important that your snack is not only supporting you, but also giving you gustatory pleasure. The act of eating is above all an experience for the senses! Take a look at our Top 5 Protein Snacks and let yourself be tempted!
Why are proteins important in our snacks?
The answer is simple: carbohydrates (sugars) are quickly absorbed to give us short-term energy. A snack made up solely of carbohydrates will not satisfy your hunger for long. Proteins take longer to digest, which makes them a very interesting addition to your snack to help you stay fuller longer!
For athletes, a snack is all the more important before your sport session, but it should not be too rich in proteins because they are digested more slowly. Carbohydrates should therefore be your first choice for a quick dose of energy.
Takeaways
Snacks are not necessary on a daily basis if you don't feel the need. However, they can help balance your energy intake throughout the day and prevent food cravings at the end of the day. Snacks could be your allies to help you eat better! 
If you have any questions regarding your personal situation, do not hesitate to contact us.