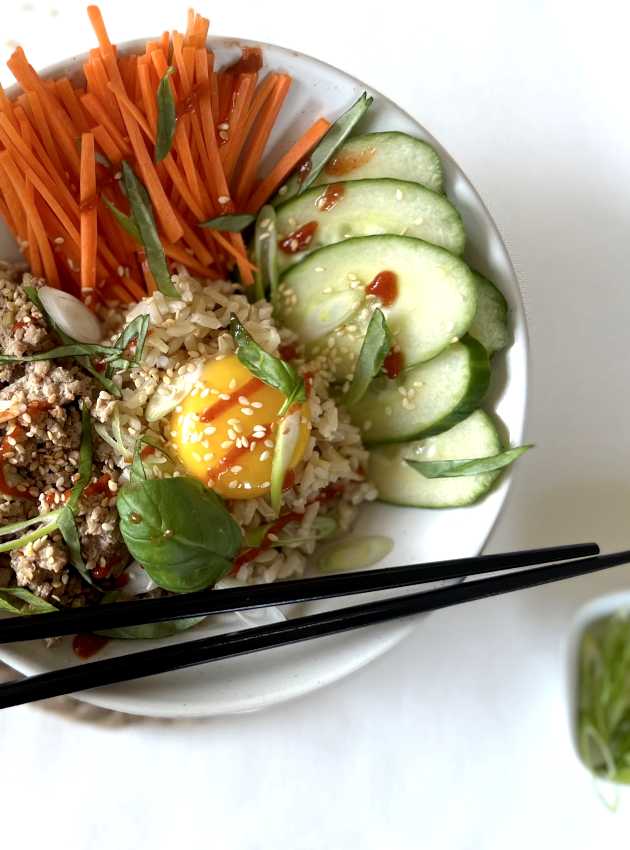 Explore our delicious recipe for Turkey Bibimbap, a flavorful and well-balanced Korean dish featuring turkey, fresh vegetables, and rice.
Ingredients
250 ml (1 cup) uncooked long grain brown rice, rinsed and drained
500 ml (2 cups) water
15 ml (1 tbsp) fresh or potted ginger
30 ml (2 tbsp) water
5 ml (1 tsp) toasted sesame oil
15 ml (1 tbsp) hoisin sauce (oyster sauce)
15 ml (1 tbsp) sambal olek or sriracha type hot sauce
1 clove garlic, finely chopped
30 ml (2 tbsp) divided rice vinegar
454g (1 lb) ground turkey
2 medium carrots, peeled and grated or cut into fine julienne strips
1 medium English cucumber, julienned
4 egg yolks (or whole eggs pan fried for about 3 mins to make mirror eggs)
Optional toppings: sriracha, green onions, fresh basil, toasted sesame seeds
Preparation
In a saucepan, bring rice and water to a boil. Cover and cook over low heat for about 35 minutes or until liquid is absorbed and rice is tender.
Meanwhile, combine ginger, water, sesame oil, hoisin sauce, hot sauce, garlic clove and 1 tbsp. rice vinegar in an airtight container. Stir in ground turkey and refrigerate for at least 20 minutes or overnight.
In a large skillet over medium-high heat, brown turkey with marinade until meat loses its pink tinge. Set aside.
Once rice is cooked, stir in 1 tbsp. of rice vinegar. Set aside, covered, off the heat.
Divide carrots, cucumber slices, rice and turkey among bowls. Before serving, place one egg yolk per plate on top of the ingredients and sprinkle with sriracha, green onions, basil and sesame seeds if desired.
Notes
Can be kept 1-2 days in the refrigerator without the egg.