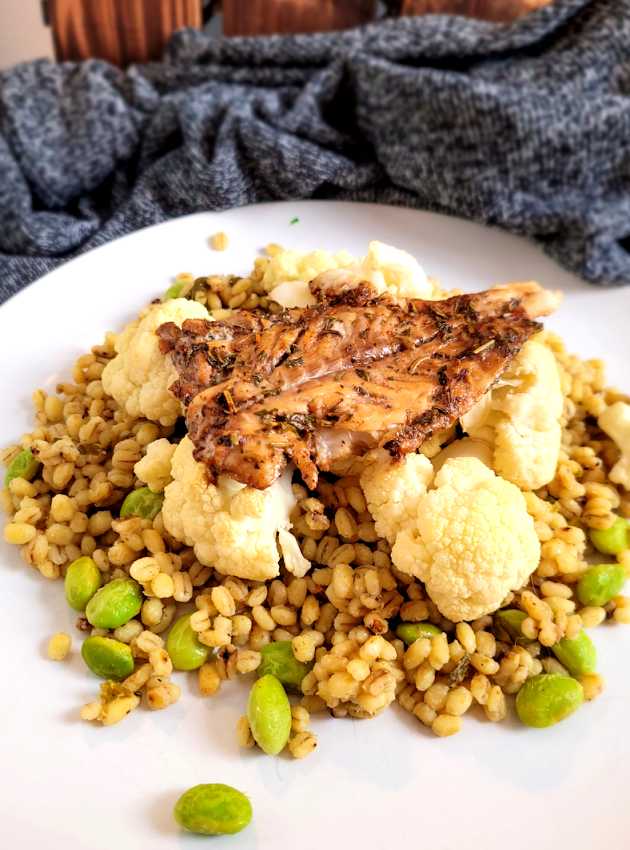 Indulge in the delicate taste of sole, paired with nutty barley and tender edamame for a wholesome and delightful dish. Try it today for a gourmet seafood experience.
Ingredients
For the barley
Vegetable oil spray (PAM type)
3 green onions, finely chopped
250 ml (1 cup) pearl barley, rinsed and drained
500 ml (2 cups) reduced-salt chicken broth
167 ml (⅔ cup) shelled edamame
30 ml (2 tbsp) nutritional yeast flakes
For the fish
800 g (1 ¾ lb) sole filets, fresh or frozen, thawed
15 ml (1 tbsp) brown miso
60 ml (¼ cup) hot water
30 ml (2 tbsp) balsamic vinegar
30 ml (2 tbsp) sodium-reduced soy sauce
5 ml (1 tsp) lime juice
5 ml (1 tsp) garlic powder
5 ml (1 tsp) paprika
5 ml (1 tsp) thyme
2.5 ml (½ tsp) sriracha or other hot sauce of choice (optional)
To serve
750 ml (3 cups) cauliflower, in small florets (or broccoli)
Salt and pepper to taste
Preparation
Preheat the oven to 375°F (190°C). Two racks will be used for this recipe, so allow enough space between two oven racks to insert a baking sheet.
Heat a saucepan over medium heat and spray the bottom with a little oil spray. Add the green onions and cook for 1 minute, stirring. Then add the barley and stir constantly for 1 to 2 minutes.
Add broth and bring to a boil. Reduce heat to low, cover and simmer for 25 minutes.
Meanwhile, prepare two baking sheets lined with parchment paper. On the first baking sheet, place the sole filets. On the second, place cauliflower and season with salt and pepper.
In a small bowl, combine all remaining fish ingredients. Pour over sole filets (or spread with a brush).
Place the baking sheet containing the fish on the top rack of the oven. Place cauliflower on the bottom rack. Bake for 15 minutes.
After the barley has cooked for 25 minutes, or until there is almost no liquid left, stir in the edamame. Cover and continue cooking until all liquid has evaporated. Remove from heat.
Let stand for 5 minutes, then serve fish and cauliflower on a bed of barley.
Notes
Can be stored for 3 to 4 days in the refrigerator. If stored separately, barley can be kept in the freezer for up to one month, while fish can be kept in the freezer for 2 to 3 months.