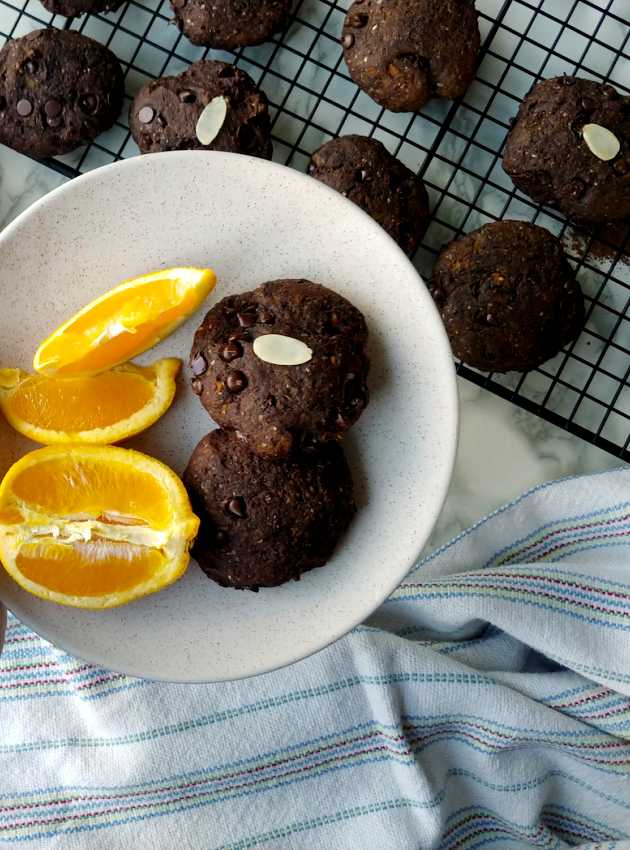 Discover our irresistible recipe for Soft Chocolate and Orange Cookies, combining the delicate marriage of chocolate and orange. Indulge in their melt-in-your-mouth texture and exquisite flavor for unparalleled moments of indulgence. It's the perfect fusion to delight your taste buds!
Ingredients
½ medium sweet potato, peeled and cubed (approx. 160 ml or 2/3 cup mashed)
15 ml (1 tbsp) ground flaxseed
45 ml (3 tbsp) water 
30 ml (2 tbsp) margarine, melted
60 ml (¼ cup) packed brown sugar
1 small orange, zest and juice (about 45 ml or 3 tbsp juice, see note)
15 ml (1 tbsp) white vinegar
1 ml (¼ tsp) vanilla extract
250 ml (1 cup) whole wheat flour
60 ml (1/4 cup) cocoa powder
2.5 ml (1/2 tsp) baking soda
60 ml (1/4 cup) semi-sweet mini chocolate chips (optional, see note)
Note: Mini chocolate chips are great for getting a little chocolate in every bite! If you don't have any, they can be omitted or replaced with finely chopped dark chocolate.  
The orange juice can be replaced with 45 ml (3 tbsp) of milk, vegetable drink or water. The zest can be omitted.
Preparation
Preheat the oven to 375°F (190°C) and line a baking sheet with parchment paper or a silicone mat. 
In a small bowl, combine the ground flaxseeds with 3 tbsp water. Let rest.
In a small saucepan, place the diced sweet potatoes and cover with water. Bring to a boil and cook for 5-10 minutes until the tip of a knife can be inserted easily. 
In a large microwave-safe bowl, melt margarine for 20-30 seconds. Drain potatoes and add to bowl, then mashed potato with a fork to make a puree. 
Add the flaxmeal preparation, brown sugar, orange juice and zest, vinegar and vanilla extract. Mix well. 
Add flour, cocoa powder and baking soda and mix well. The dough will be very dry at first and then very sticky. Use your hands to mix as needed. Add chocolate chips and mix again. 
With wet hands, form 12 small patties of about 30 ml (2 tbsp) of dough and place on the baking sheet. Bake for 8-10 minutes or until a toothpick inserted in the center of a cake comes out clean. 
Conservation
Can be stored for 5 days at room temperature or 2 months in the freezer.