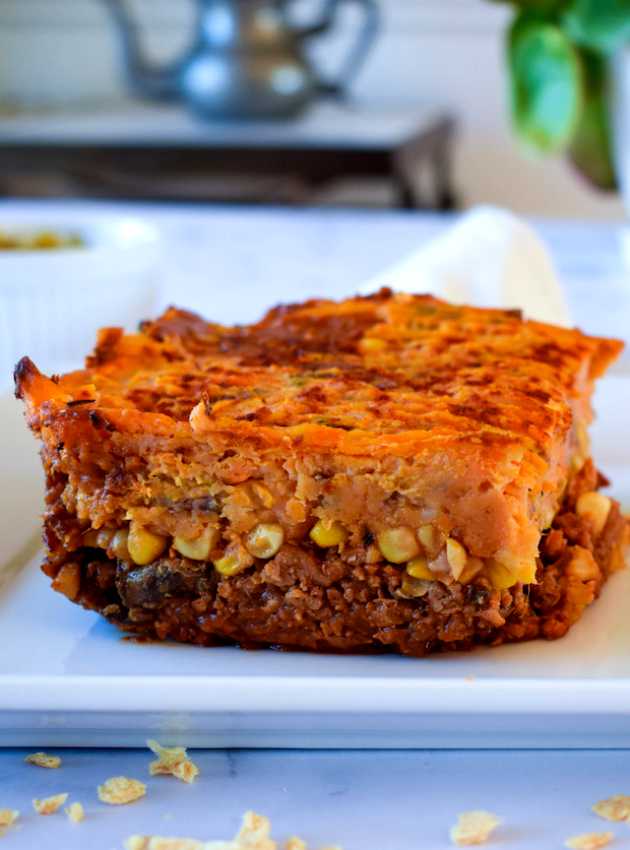 Savor the perfect balance of flavors, where plant-based goodness meets hearty meatiness, creating a nutritious and satisfying culinary experience. A mouthwatering twist on a classic comfort dish!
Ingredients
Mashed potatoes :
875 ml (3 ½ cups) potato with skin on, cut into cubes
875 ml (3 ½ cups) turnip/cauliflower/carrot or other root vegetable
15-30 ml (1-2 tbsp) semi-salted or unsalted butter
190 ml (¾ cup) milk of your choice
Salt and pepper to taste
Meat:
1 package (454 g) ground turkey or chicken
375 ml (1 ½ cups) zucchini, small cubes
½ medium onion (½ cup), chopped
5 large mushrooms (1 ½ cups), sliced
250 ml (1 cup) textured vegetable protein (TVP)
125 ml (½ cup) beef broth, reduced in sodium
60 ml (¼ cup) chili sauce
30 ml (2 tbsp) sodium-reduced soy sauce
10 ml (2 tsp) chili spice blend
Paprika to taste and more for the top
Salt and pepper to taste
1 can (341 ml) corn
Note: To add vitamins and a bit of originality to your shepherd's pie, we add root vegetables for an even more tasty and nutritious mashed potato. Parsnips and sweet potatoes are two other interesting vegetables to add. In addition, keeping the potato skins on provides more fiber.
Preparation
Place the potatoes and other root vegetables in a saucepan. Cover with cold water. Bring to a boil and simmer for 25 minutes or until vegetables are very tender. Drain. Return to pot.
Using a potato masher, coarsely mash the vegetables with the butter. Purée the mixture with the milk. Season with salt and pepper. Set aside.
Place the rack in the middle of the oven. Preheat the oven to 375°F (190°C).
In a large skillet over medium-high heat, brown the onion in a drizzle of oil. Add meat and cook until browned. Add the other vegetables and cook for another 4-5 minutes. Season with salt and pepper.
Add the textured vegetable protein and the rest of the ingredients for the meat, cook for a few minutes and remove from heat.
Lightly press the meat mixture into the bottom of a large baking dish. Spread corn and mashed potatoes on top. Sprinkle with paprika.
Bake for 30 minutes.
Conservation
Can be kept for 3-5 days in the refrigerator and 3 months in the freezer.