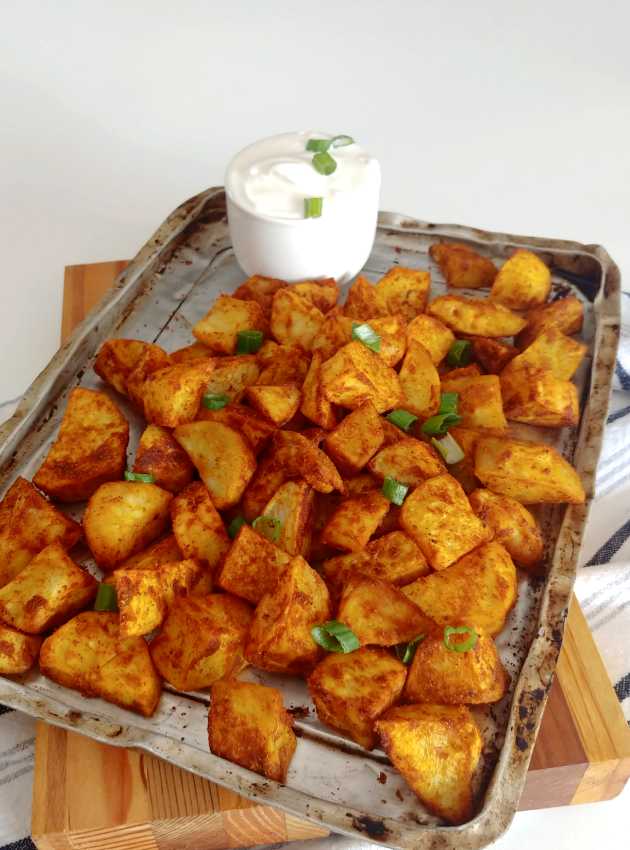 Delicious as a side dish or during a tapas party, these potatoes are perfectly crispy and tasty, without any frying! It's a little ''twist'' on the classic breakfast potato, but believe me you'll fall in love with these !
Ingredients
4 medium potatoes, peeled (approx. 800 g), roughly diced
15 ml (1 tbsp) canola oil
10 ml (2 tsp) curry powder
5 ml (1 tsp) smoked paprika
2 ml (½ tsp) granulated garlic
Salt to taste
Plain Greek yogurt (optional)
Green onion (optional)
Preparation
Preheat the oven to 400 °F (205 °C). Line a baking tray with parchment paper or a reusable silicone mat.
Place potatoes in a large bowl.
Add the oil, spices, garlic and a pinch of salt and toss well to coat each piece.
Spread the potatoes on the baking sheet and bake in the oven for 40 minutes, stirring halfway through.
Serve with plain Greek yogurt and chopped green onion, if desired.