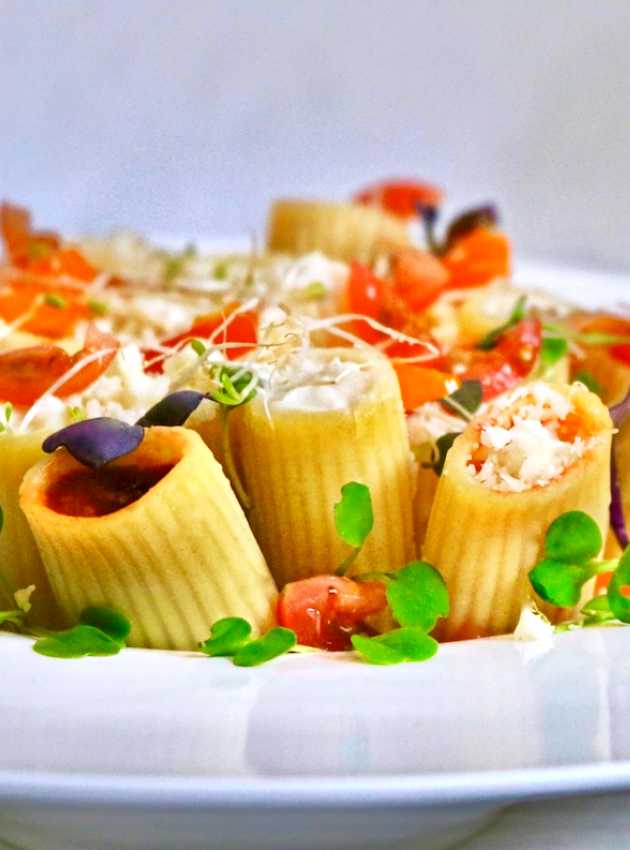 Discover a delightful novelty with our Rigatoni Bolognese Cake recipe. This innovative dish combines the flavors of classic pasta with a rich Bolognese sauce, creating a savory masterpiece that will impress your guests.
Ingredients
400 g (14 oz) can crushed tomatoes
1 onion finely chopped
500 g rigatoni
250 g of lean ground beef
30 ml (2 tbsp) olive oil
45 ml (3 tbsp) mascarpone
100 g grated cheese (mozzarella or cheddar)
5 ml (1 tsp) oregano
½ bunch of flat parsley
Salt and pepper, to taste
Preparation
Preheat the oven to 190 °C (375 °F).
In a pot of hot salted water, cook the pasta al dente (cooked, but still a little firm). Drain and set aside.
Heat olive oil in a very large skillet on medium heat. Add the chopped onion. Cook for 5 minutes, stirring occasionally, until the onions are softened.
Add the ground beef. Make sure to break up small chunks. Fry everything.
Add the peeled and crushed tomatoes.
Season with oregano, salt and pepper.
Add the chopped flat-leaf parsley and incorporate the mascarpone. Mix and set aside.
Place a piece of parchment paper in a baking dish and arrange the rigatonis standing one by one until the dish is full. – Cover the pasta with the sauce. Fill the holes to the maximum.
Sprinkle with grated cheese and bake for 15 to 20 minutes.
Carefully remove the parchment paper and serve immediately.