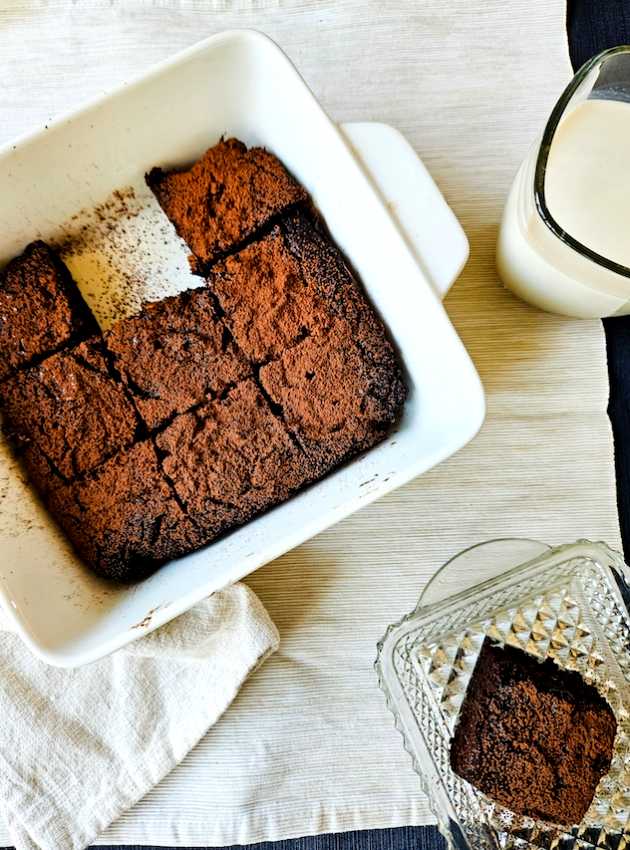 This decadent brownie recipe is perfect for using up your Halloween pumpkin leftovers. Moist and delicious, low in sugar, and high in fiber, this dessert will surprise many!
Ingredients
250 ml (1 cup) dates

125 ml (½ cup) water

2 large eggs

250 ml (1 cup) unsweetened pumpkin purée (canned or homemade)

80 ml (⅓ cup) almond flour

60 ml (¼ cup) gluten-free flour (or all-purpose flour)

30 ml (2 tbsp) psyllium husk

10 ml (2 tsp) instant coffee

10 ml (2 tsp) vanilla extract

10 ml (2 tsp) apple cider vinegar

5 ml (1 tsp) baking powder
Preparation
Preheat the oven to 350°F (180°C).

In a medium bowl, heat the dates and water in the microwave for 1 minute and 30 seconds, then grind them in a food processor or with an immersion blender. Let it cool.

In a large bowl, mix the remaining ingredients. Add the cooled date puree to the mixture to prevent it from cooking the eggs.

Place the mixture in a square baking dish and bake for 30 minutes, or until the center is still very moist. Let it cool and cut into 9 pieces.
Notes
Can be stored in an airtight container in the refrigerator for 7 days. Freezes for up to 3 months.