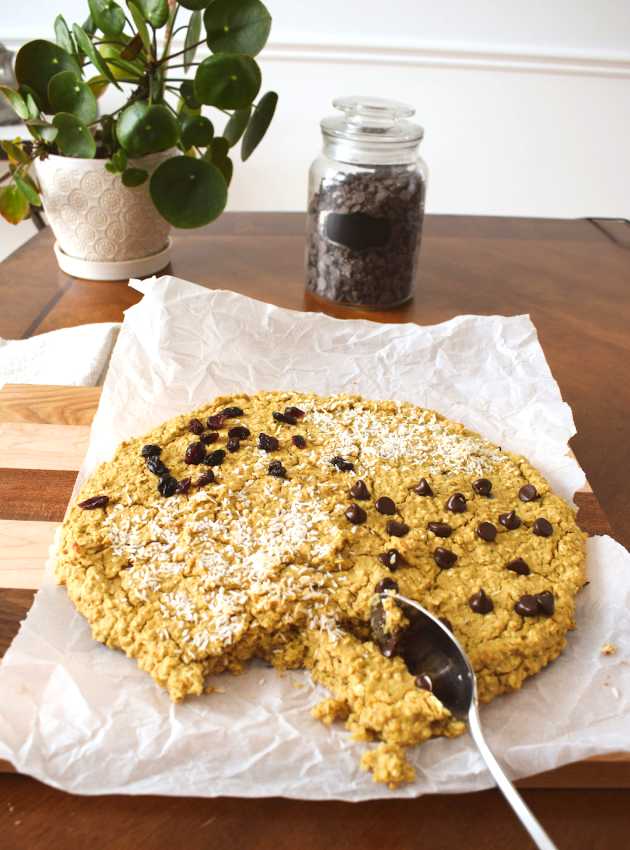 What's better than sharing a little treat with family or friends? With this recipe for a giant cookie, you can customize your portion with the same base recipe to please everyone. Additionally, this recipe is ideal for incorporating legumes, which add a pleasant texture along with a significant amount of fiber and protein. Enjoy!
Ingredients
1 can (540 ml) of chickpeas, rinsed and drained
2 large eggs
1 ripe medium banana
60 ml (¼ cup) of natural peanut butter (or other nut butter)
60 ml (¼ cup) of maple syrup
15 ml (1 tbsp) of caramel extract
5 ml (1 tsp) of baking powder
1 pinch of salt
500 ml (2 cups) of quick-cooking oats
60 ml (¼ cup) of semi-sweet chocolate chips
Choice of Toppings:
Chocolate chips
Unsweetened shredded coconut
Dried cranberries or raisins
M&M's
Smarties
Caramel chips
Chopped walnuts
Etc.
Note: Caramel extract can be found easily in grocery stores, often located next to vanilla extract. If you don't have it, you can simply replace it with vanilla extract. Also, this recipe can be made with certified gluten-free oats.
Preparation
Preheat the oven to 350°F (180°C). Line a pizza pan or baking sheet with parchment paper.
In a food processor, combine the chickpeas, eggs, banana, peanut butter, and maple syrup. Blend until smooth and homogeneous.
Add the caramel extract, baking powder, and a pinch of salt. Mix on low speed. Add the oats and pulse a few times to combine well, but not to turn them into flour. Add the chocolate chips and mix with a spatula before pouring onto the pan, forming a large circle with a thickness of about 1 ½ cm.
Add the desired toppings and bake for 25 minutes, or until a toothpick comes out clean.
Notes
Store in an airtight container in the refrigerator for up to 5 days or in the freezer for up to 3 months.