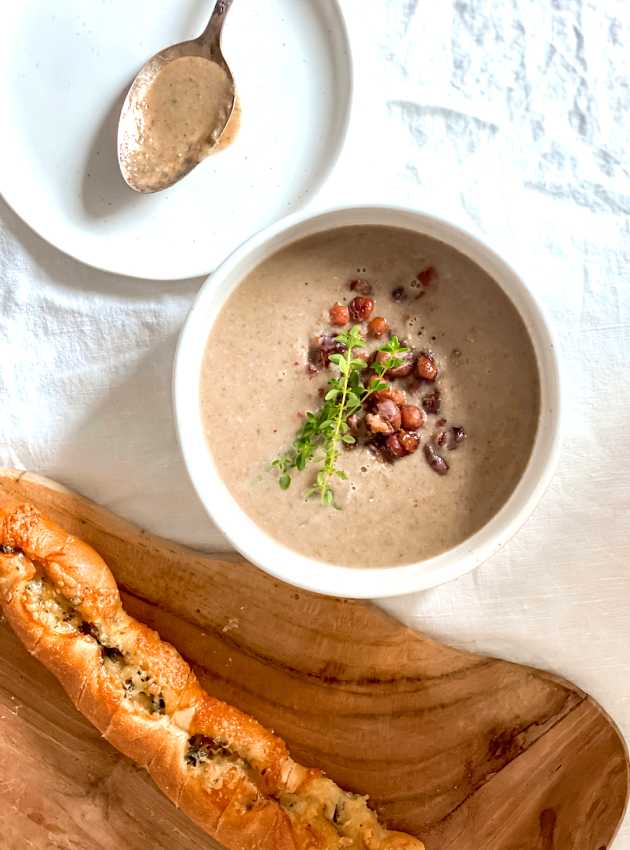 Discover the benefits of our Mushroom Soup with Chickpea Croutons. A delicious velvety soup, rich in flavors and plant-based proteins. Indulge in this comforting and healthy bowl of goodness today.
Ingredients
Chickpea croutons
1 can (540 ml) chickpeas, rinsed and drained (or other legumes)
15 ml (1 tbsp) vegetable oil
10 ml (2 tsp) maple syrup
15 ml (1 tbsp) balsamic vinegar
5 ml (1 tsp) cumin
Salt and pepper to taste
Soup
15 ml (1 tbsp) vegetable oil
1 onion, chopped
1 package (227 g) white mushrooms, quartered
500 ml (2 cups) yellow potatoes, cubed
About 8 sprigs fresh thyme
1 bay leaf
1 L (4 cups) vegetable stock
60 ml (¼ cup) nutritional yeast
Pepper and salt to taste
Preparation
Preheat oven to 200 C° (400 F°). Line a baking sheet with parchment paper.
In a bowl, mix half of the chickpeas with the remaining ingredients for the croutons. Place on the baking sheet and bake for 35 minutes, making sure to stir halfway through.
In a large saucepan over medium-high heat, heat oil, then add onions. Heat for 5 minutes, then add mushrooms.
Continue cooking for 5 minutes before adding the rest of the soup ingredients.
Cover and simmer over low heat for 20 minutes.
Pour into blender until smooth.
Pour into bowls and top with roasted chickpeas.