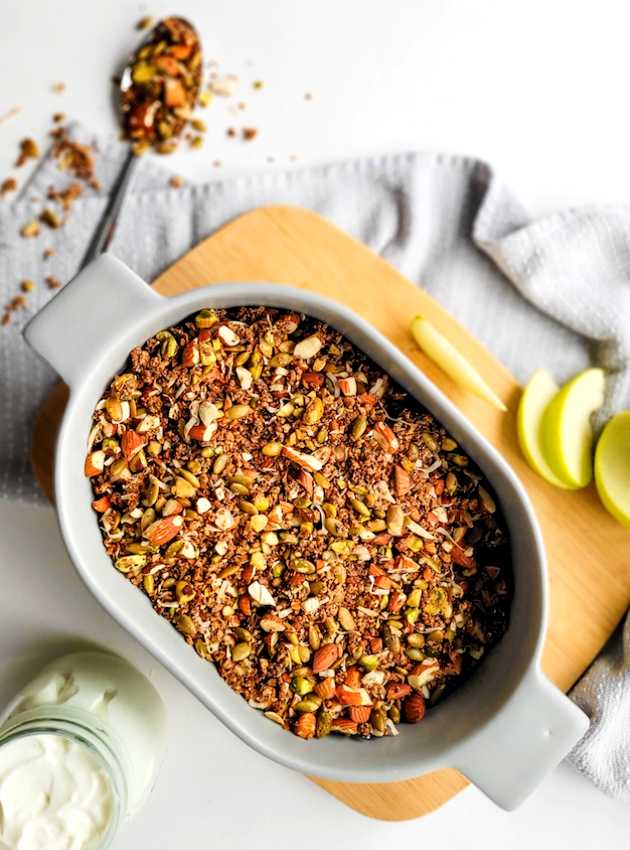 Finally, a grain-free granola that isn't too sweet! Thanks to textured vegetable protein (TVP), it's wonderfully crunchy and high in protein, keeping you fueled for a long time.
Plus, with only 9g of carbohydrates per serving, it's a perfect fit for those with diabetes—enjoy it in yogurt with some fruit for a complete breakfast without worrying about your blood sugar.
And there's more: it also contains 2.6mg of iron per serving, which is 18% of your daily needs, per serving of 125 ml (½ cup).  
Ingredients
500 ml (2 cups) textured vegetable protein (TVP)

250 ml (1 cup) raw unsalted almonds, coarsely chopped

185 ml (¾ cup) raw unsalted pumpkin seeds

125 ml (½ cup) unsalted roasted shelled pistachios, coarsely chopped

60 ml (¼ cup) unsweetened shredded coconut

60 ml (¼ cup) chia seeds

15 ml (1 tbsp) ground flaxseed

5 ml (1 tsp) ground cinnamon

60 ml (¼ cup) egg whites

5 ml (1 tsp) vanilla extract
Preparation
Preheat oven to 325°F (160°C).

In a large bowl, mix all the dry ingredients together. Stir in the egg whites and vanilla extract.

Spread the mixture on a baking sheet lined with a silicone mat or parchment paper.

Bake for 18 minutes, stirring every 5 minutes. Allow to cool completely.
Notes
Keeps for 4 days at room temperature or 1 month in the refrigerator in an airtight container. Do not freeze.