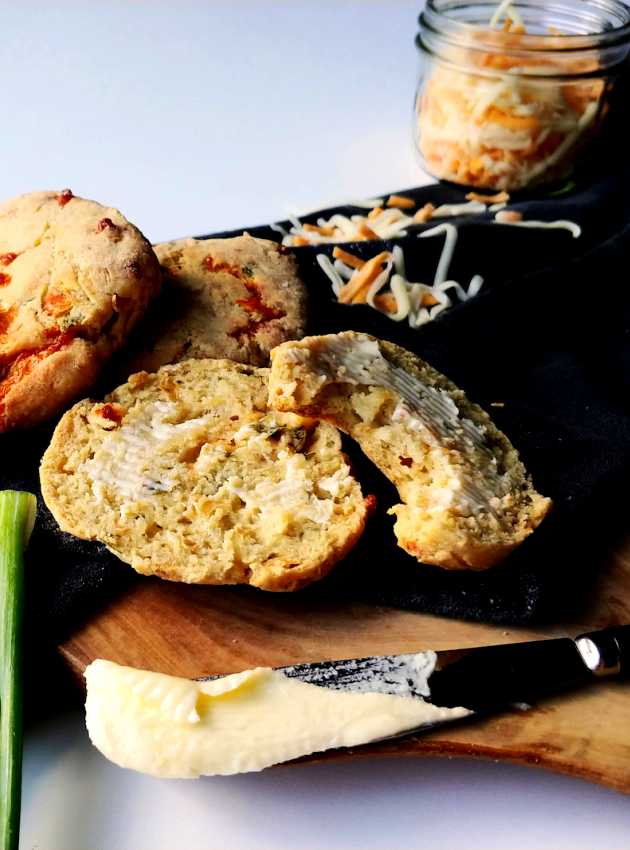 Discover our delectable recipe for Cheddar and Hot Pepper Scones, with a gluten-free and low FODMAP option. These savory scones are packed with flavorful cheddar and a spicy kick, perfect for a gluten-free or low FODMAP diet. Try them now!
Ingredients
375 ml (1 ½ cups) all-purpose gluten-free flour (Queen St. Bakery type) and a little more for flouring
7.5 ml (1/2 tbsp) baking powder
A pinch of salt
40 ml (2 1/2 tbsp) margarine or butter
180 ml (3/4 cup) plain Greek yogurt
125 ml (1/2 cup) shredded light marbled cheddar cheese
7.5 ml (1/2 tbsp) hot peppers, finely chopped
2 green onions, green part only, finely chopped
Note: Plain Greek yogurt is high in FODMAPs. However, it can easily be replaced with plain lactose-free yogurt without altering the result. 
The hot peppers can be Piri Piri peppers or pickled jalapenos for example. Here, I used 2 Piri Piri peppers for a total of about 7.5 ml (½ tbsp) of finely chopped hot peppers.
Preparation
Preheat the oven to 375°F (190°C) and line a baking sheet with parchment paper or a silicone mat.
In a large bowl, combine flour, baking powder and salt. Using a fork, stir in margarine to obtain a crumbly texture.
Add yogurt, cheddar cheese, hot peppers and green onions and mix briefly until flour is gone. Do not overwork the dough.
Flour the dough ball and place on a floured work surface. Shape into a large rectangle about 2.5 cm (1 inch) thick. Cut the rectangle into 8 equal pieces. You can shape them into circles or leave them as is.
Divide the scones among the baking sheets, spacing them out, and bake for 25 minutes or until they are lightly browned on the bottom.
Notes
Can be stored for 4 days at room temperature or 3 months in the freezer.