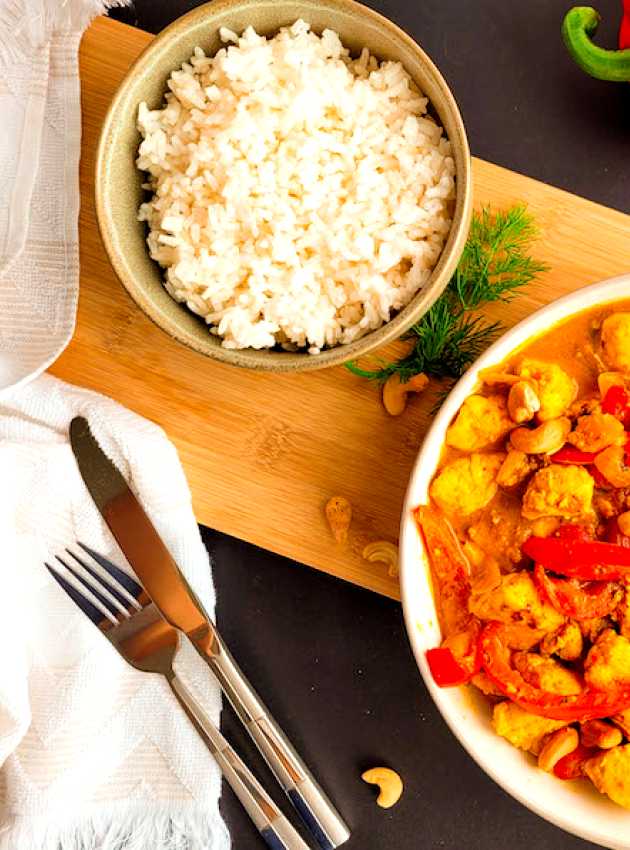 Discover the exquisite flavors of our Thai Cod Curry recipe. Indulge in the delicate balance of aromatic Thai spices and tender cod fish, creating a creamy and flavorful curry that will transport you to the vibrant streets of Thailand.
Ingredients
Cod
600 g (1 ⅓ lb) skinless cod fillet, cut into large cubes
½ white onion, coarsely chopped
1 red bell pepper, cut into strips
375 ml (1½ cups) sodium-reduced vegetable broth
30 ml (2 tbsp) curry powder
15 ml (1 tbsp) Thai red curry paste
5 ml (1 tsp) ground cumin
5 ml (1 tsp) ground ginger
22.5 ml (1½ tbsp) 0% plain Greek yogurt
5 ml (1 tsp) lime juice
Side dishe
60 ml (¼ cup) unsalted roasted cashews
500 ml (2 cups) cooked white rice, to serve
Preparation
Coat the bottom of a saucepan with oil spray. Over medium heat, cook cod cubes, about 5 minutes, or until cooked through and golden. Set aside on a plate.
In the same pan, spray the bottom of the pan again with oil spray. Over medium-high heat, sauté onion and bell pepper for about 5 minutes.
Add broth, curry powder, curry paste, cumin and ginger. Bring to a boil, cover and simmer for 8 to 10 minutes over low heat.
Remove from heat and stir in yogurt and lime juice. Mix well.
Return the cod cubes to the pan and stir gently.
Serve curry on a bed of rice and garnish with cashews.
Notes
Can be kept for 5 days in the refrigerator.