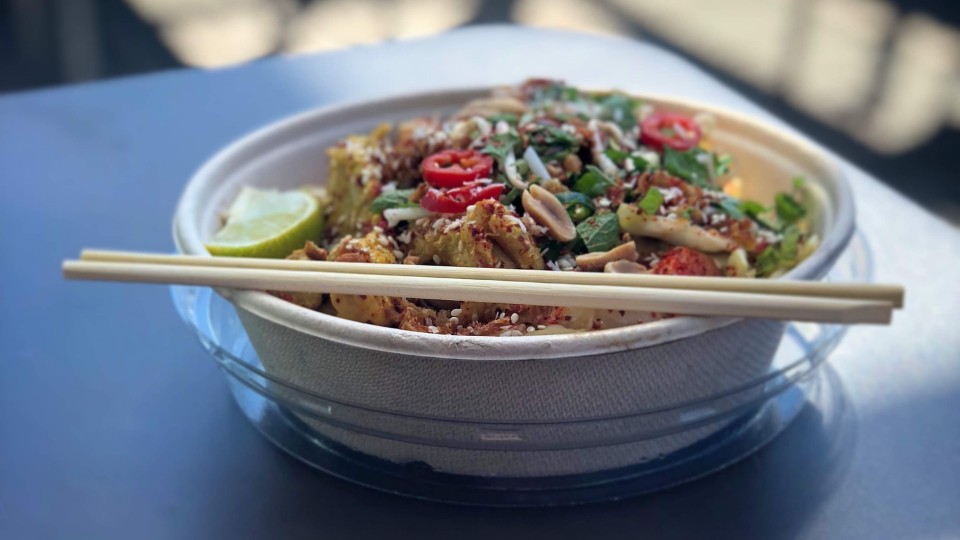 Are you one of the 50% of Canadians who intend to use food deliveries at least once a week as a convenient way to enjoy a break from cooking?
Ordering take-out is a great way to satisfy your cravings without too much hassle at the end of a long day. Yet, the usual options often include some ingredients that might conflict with your pledge to eat better after the excesses of the festive season.
The good news is that many local restaurants are willing to fulfill your need for convenient healthy meals to order in Calgary.
This is our Calgary dietitian's list of recommended healthy take-out Calgary has to offer.
You'll find this totally Thai, totally vegan restaurant on 6th Street and 77th Avenue in Calgary.
Our top pick from this acclaimed eatery is the Thai Penang curry which is available in a 'chick-un' or tofu version. It's served with a thick, creamy sauce featuring a hint of kaffir lime, with jasmine rice and pickled cucumber salad on the side.
Hearts Choices came tops in the 2018 Top Choice award in the vegan category, so they're a top choice for Calgary healthy take-out option. You can pick up your order at the outlet nearest to you, or order online from their website.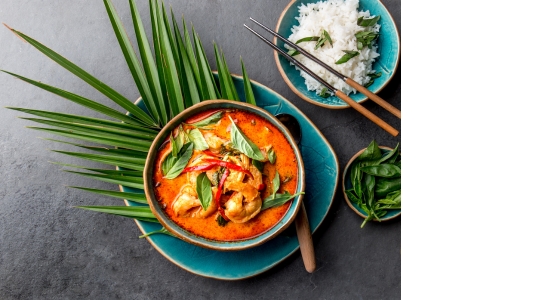 2. Tamarind : Satay Tofu Noodle Soup
This high-end restaurant is fully committed to the vegan lifestyle. They even make their own tofu as well as the satay sauce that gives this dish its unforgettable flavor.
The other ingredients in this thick broth include bean sprouts, noodles, mixed vegetables, and just the right amount of aromatic herbs, like cilantro, Vietnamese basil, and jalapeno.
Take a trip to Tamarind Vietnamese Grill House on 6th Ave SW or order one of their healthful dishes by phone.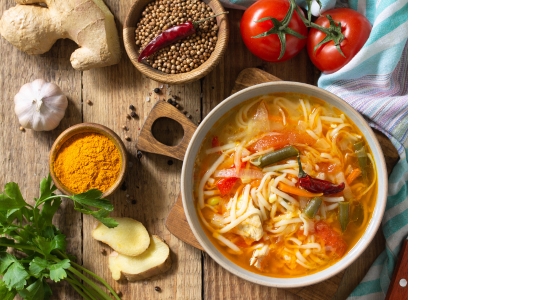 Our Daily Brett runs a small, classy market and restaurant on 29th Avenue SW. They'll make your meal to order and deliver, or you can grab one from their ready-prepared cooler if you're in a hurry.
The Plant Bowl stands out as a model of good health and is simply filled with wholesome goodness. Each bowl contains roasted beets, avocado, shredded carrots, toasted pumpkin seeds, and sunflower shoots, all nestled on a bed of crisp three-grain tempeh. A drizzle of tahini completes the dish perfectly.
You can also pick up a meal, or some ingredients to try your own healthy recipes, from their online market.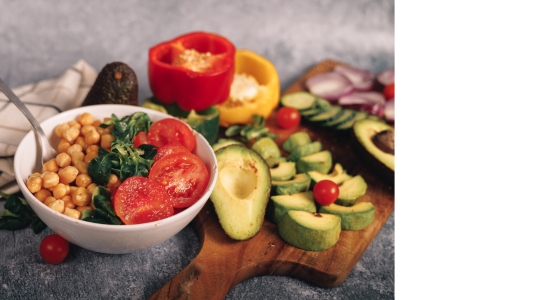 4. Cedar's Deli : Chicken and Falafel Plate
Cedar's Deli's been dishing up healthy Mediterranean fare since 1985 from its first store in Calgary. Today, this popular eatery operates from six outlets across the city. You can pick up your meals from their healthy take-out restaurants at:
Edmonton Trail
Market Mall
BP Center
Panorama Hills
The Shoppes at London
Ogden Horizon
You can pop in to pick up your order at any of these locations. Alternatively, order this medley of roast chicken and Greek salad with a falafel ball, tzatziki, hummus, and tahini directly from their website.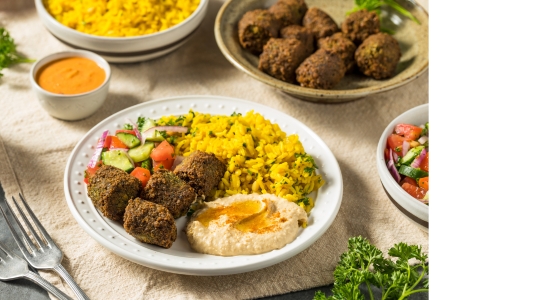 This is the Superbowl of salad featuring red beets, crumbled feta, carrots, edamame, dried cranberries, and sunflower seeds. Plus, they have grape tomatoes, hemp hearts, greens, and roasted and salted lentils. The final touch is a homemade lemon honey dressing.
Inspired Go offers a wealth of health take-out in Calgary including breakfast kits and other chef-inspired meals. They grow all their own greens and vegetables under strictly eco-friendly controlled conditions in an Alberta greenhouse.
When you support this community-conscious eatery at 52 St SE, you're also supporting all their initiatives to bring healthy meals to local communities.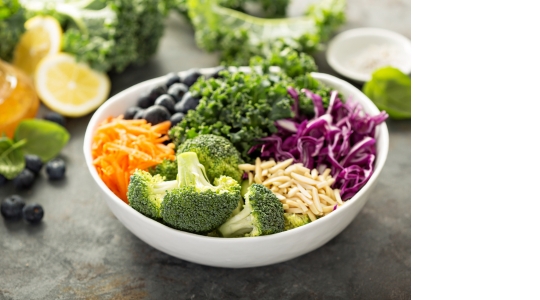 Another bastion of healthy Mediterranean meals, Aida's offers a wide range of hearty and healthy eats. Aida has been perfecting the art of Lebanese cooking for the last 40 years and first opened this eatery at the turn of the century.
If you want to visit her place, take a stroll along Calgary's 'Restaurant Row' along 4th Street SW, or order ahead and pick up your meal.
One of the best things you can choose from this vast menu is the vegetarian couscous featuring a combination of zucchini, green peppers, eggplant, garlic, and tomato sauce.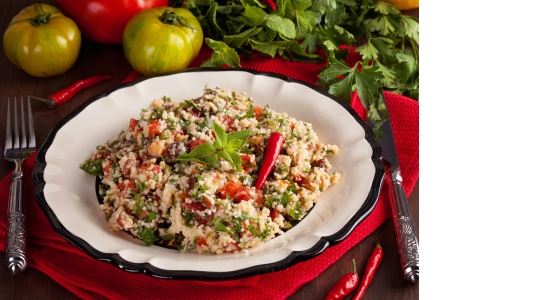 7. Fit Kitchen : Healthy Meals to Order in Calgary
Do you have a busy week ahead? Fit Kitchen's got you covered. This online-based meal prep company will prep and deliver all your meals according to your dietary needs.
You can use their online menu to make your selection and Fit Kitchen will take care of making sure you're receiving a healthy dish. Fit Kitchen is based in Calgary and preps meals fresh from their kitchen daily for delivery city wide. 
You can order one meal or pre-order for as many days as you like. Fit Kitchen also offers meal plan options to help you meet your goals from weight-loss to muscle gain.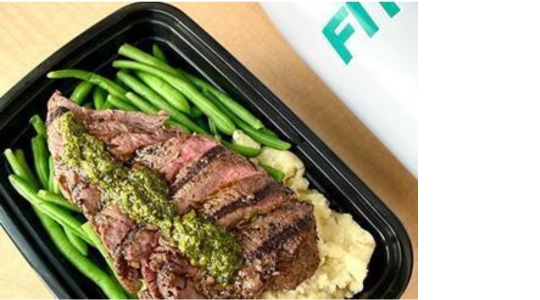 This tiny quick-serve restaurant on 1 St SW delivers a big bang when it comes to custom vegan bowls and scrumptious juices and smoothies.
The Acai bowl stands out for those in need of an antioxidant boost. This delectable creation contains acai berries as well as mango, cocoa, banana, coconut milk, pineapple, cashews, and almonds.
You can order yours from door dash, or pop by their store, order, and take it away in no time at all.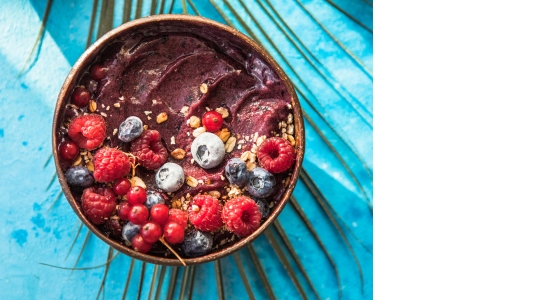 Get More Dietitian Recommended Eating Tips
Healthy eating doesn't need to involve bland, tasteless meals, or hours of preparation. The next time you're simply too busy or too tired to cook for yourself, take a look at this list of easy, tasty, and healthy meals to order in Calgary first.
You can also check out our recipe section for some wonderfully tasty, nutritious, and easy-to-prepare dietitian recommended options.
Are you ready to make healthy eating a part of your lifestyle? Book your online nutrition consultation today. Our Registered Dietitian will help you with a personalized solution for your needs.