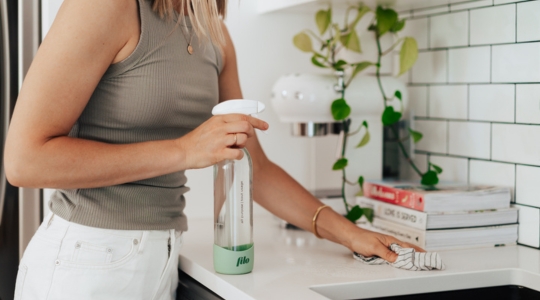 This article is in collaboration with Myni
With spring already around the corner, that means spring cleaning is coming too. After a long period of procrastination buried in our slippers, this is the perfect time to sort out everything in our environment. It also gives us a great sense of satisfaction, doesn't it? When everything is in order and clean, everything looks better. So, why not introduce cleaning moments with the products you love into your routine throughout the year? There's no need to wait to take advantage of all the benefits that a cleaning session can bring us. To convince you, here are the 5 reasons to schedule cleaning time in your daily (or weekly, as you feel) routine. 
1. Take Time for Yourself and Relieve Stress
For some, cleaning can be a source of stress when it is not well managed. However, it is actually very beneficial for the mind. It allows us to focus on one task while leaving all the other little worries aside. When we clean, we often don't think about anything else, our brain relaxes. Help make this moment enjoyable by getting products with pleasant smells, listening to music or dressing comfortably in your favorite pair of jogging pants, for example. You will feel a sense of satisfaction and accomplishment, which is very positive for the balance of the soul. 
2. Save Time, Money, and Space
Cleaning is a waste of time? We often hear this excuse. Yet, cleaning helps us save more time at the end of our week. Why? Because, among other things, it allows you to be better organized, to not look for things for hours and to be more disciplined. As a bonus, you'll even gain storage space. Your drawers and shelves will no longer be a jumble of stuff. You'll avoid accumulating possessions or clothes that you don't really need. People who are diligent in cleaning are often more minimalist, a positive point for the environment and your savings. Another positive point is that your clothes will always be clean and ready to wear, no matter what the occasion. 
3. Live in a Healthy Environment
Create an environment that reflects who you are; there's nothing better than a clean and organized space to fully enjoy your home. It's okay to let things slide once in a while and forget about your dishes on a Friday night—don't make a big deal out of it. However, our surroundings often relate to our level of comfort and well-being. Add some beautiful bottles, a diffuser, and a few plants to enhance your space, as well as improve the quality of your indoor air.
4. Always Be Prepared for Visitors
No more surprise visits where you feel uncomfortable opening the door of your home. Introducing a cleaning routine into your life allows you to be ready to receive visitors, no matter what the circumstances. There's no need to worry about whether the floor is clean, the couch is full of cookie seeds or pet hair or the kitchen counter is overflowing with dirty dishes. Small, simple, quick and easy actions on a daily basis will allow you to be prepared for any eventuality and enjoy quality time with your guests without worrying. 
5. Gain Motivation
Have you ever wondered if to be productive you need to be motivated or if to be motivated you need to be productive? In either case, indulging in daily housekeeping sessions will allow you to be both more productive and more motivated. If we don't plan ahead, it's much easier to procrastinate. The more we procrastinate, the more motivation evaporates. By planning your sessions, you will be much more motivated to be more productive. Having something on the schedule also helps us have a goal and objective to accomplish, which is beneficial to our overall motivation.
You can schedule your sessions in different ways, here are some suggestions.
Note that needs may vary from person to person, depending on the size of the house, the number of people in the house (including pets) and the schedule.
Small sessions
10-15 minutes daily, before or after your work day.
In the morning it allows you to be more productive to start the day and in the evening it allows you to relax and decompress after a day of work.
Tip: Choose different tasks in the morning and in the evening. For example, do tasks that stimulate you in the morning and tasks that relax you in the evening.
Medium-sized sessions
20-30 minutes, 3 times a week.  
For example, Sundays, Wednesdays and Fridays.
A long session
1h30-2h00, once a week.
If you prefer to do housework for a longer period of time, you can schedule it all at once. For example, Sunday afternoon can be dedicated to your weekly cleaning session. However, leave yourself a second option in your weekday schedule if anything else comes up.
So there you have it. You no longer have a bad reason to keep up your bad habits and procrastinate. The important thing is to go at your own pace, you must not see it as a chore or you will quickly lose motivation. You have to do it for pleasure and be aware of the benefits it can bring to your life in the short, medium and long term.