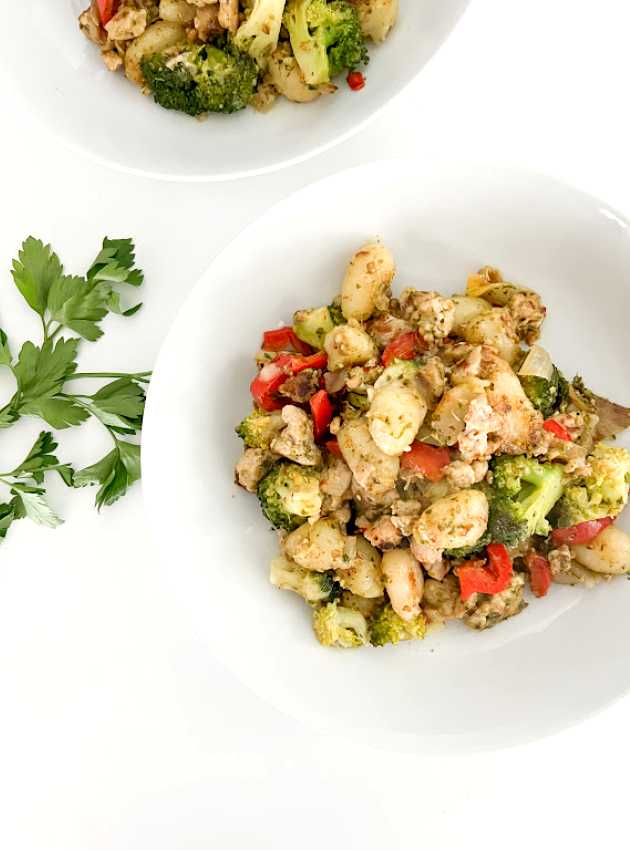 Experience a delightful medley of flavors with our Sautéed Gnocchi featuring tender chicken and aromatic pesto. Indulge in a quick and satisfying meal that's bursting with savory goodness. A culinary masterpiece that will leave you craving for seconds!
Ingredients
1 package (500 g) store-bought gnocchi
1 crown of broccoli, cut into small florets
7.5 ml (½ tbsp) olive oil
454 g (1 lb) ground chicken (see Note)
1 onion, chopped
1 red bell pepper, cut into thin strips
1 clove garlic, chopped
2.5 ml (½ tsp) crushed hot pepper flakes
80 ml (⅓ cup) pesto (homemade or store-bought)
175 ml (¾ cup) grated sharp cheddar cheese
Pepper and salt, to taste
This recipe can be used as a base for a fridge-free meal:
Replace the ground chicken with another protein source of your choice such as: tuna, ground beef, PVT (textured vegetable protein), tofu, shrimp, salmon...
Use the vegetables available in your refrigerator. Count about 4-5 cups of cut vegetables.
Different varieties of pestos or pasta sauces can be used.
Note: For a vegetarian version, replace the chicken with a 1lb (454g) block of crumbled extra-firm tofu.
Preparation
In a pot of boiling salted water, cook gnocchi and broccoli florets for about 3 minutes. Drain and set aside.
In a large non-stick skillet, heat oil over medium-high heat. Cook ground chicken for 5 minutes, breaking it up with a wooden spoon, or until it begins to colour. Add onion and cook for an additional 5 minutes or until meat is cooked through.
Add gnocchi and broccoli mixture, red bell pepper, garlic and hot pepper flakes. Continue cooking for 5 to 10 minutes without over-stirring or until gnocchi is golden brown.
Gently stir in pesto and grated cheese. Season to taste and serve.
Notes
Can be stored 3-5 days in the refrigerator or 3 months in the freezer in an airtight container.