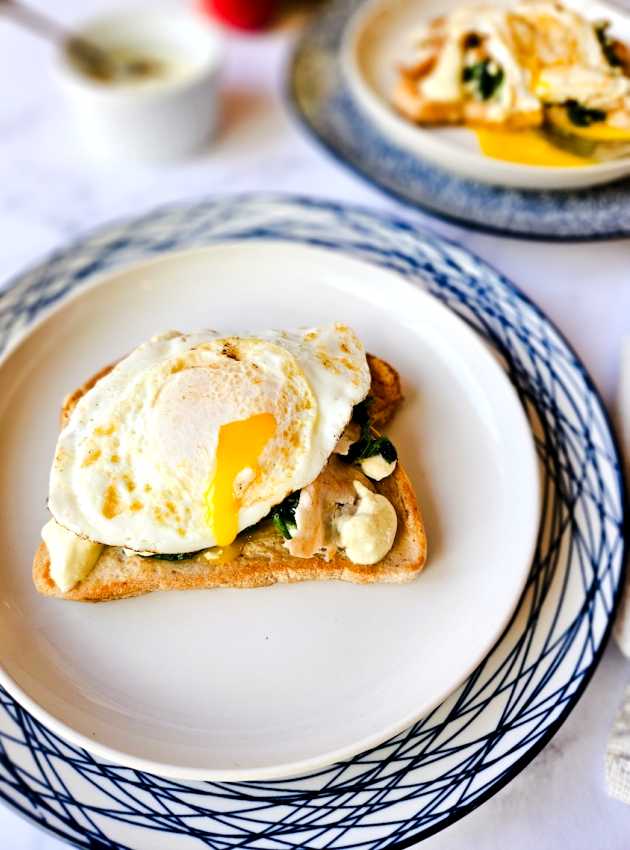 Here's an original breakfast recipe that's low in calories but high in protein, which will change up your morning routine. It's also convenient for those rushed lunchtimes. Feel free to tailor the recipe to your tastes with your favourite vegetables.
Ingredients
For the light hollandaise sauce:
125 ml (½ cup) 2% M.F. cottage cheese
15 ml (1 tablespoon) fresh lemon juice
7.5 ml (½ tablespoon) nutritional yeast
5 ml (1 teaspoon) Dijon mustard
For the eggs Benedict:
1 French shallot, chopped
500 ml (2 cups) fresh baby spinach
30 ml (2 tablespoons) 2% cottage cheese
2 large eggs
2 slices of smoked turkey (or smoked salmon)
Pepper and salt, to taste
2.5 ml (½ teaspoon) oil
For the French toast:
2 slices of whole-grain bread
125 ml (½ cup) liquid egg whites
2.5 ml (½ teaspoon) oil
Note: If you enjoy mushrooms, feel free to add them to your spinach sauté, along with a bit of cheddar cheese to make this breakfast even more delicious. To balance the meal, add a fruit salad or simply your favourite fruit. If you're not a fan of fruits, I suggest adding more vegetables like mushrooms, bell peppers, and leeks to the spinach.
Preparation
In a small food processor, blend the ingredients for the hollandaise sauce until smooth. Set aside.
In a shallow dish, pour the egg whites and soak the bread slices until well saturated. Set aside on a plate. 
In a non-stick pan, sauté the shallot in oil. Add the spinach and cottage cheese, season with salt and pepper. Set aside. 
In another large non-stick pan lightly oiled and heated over medium heat, cook the soaked bread slices for 2 minutes on each side, flipping with a spatula. 
Place the French toast on serving plates and use the same pan to cook the eggs sunny-side up (or your preferred method). 
Before assembling the Benedict French toast, heat the hollandaise sauce in the microwave for about 30 to 45 seconds. 
Assemble by spreading a little hollandaise sauce on the French toast, adding the spinach, a slice of turkey, and finally the egg. Top with a little more sauce and serve immediately.
Notes
Keeps for 2 days in an airtight container in the refrigerator. The French toast alone can be frozen for 3 months.