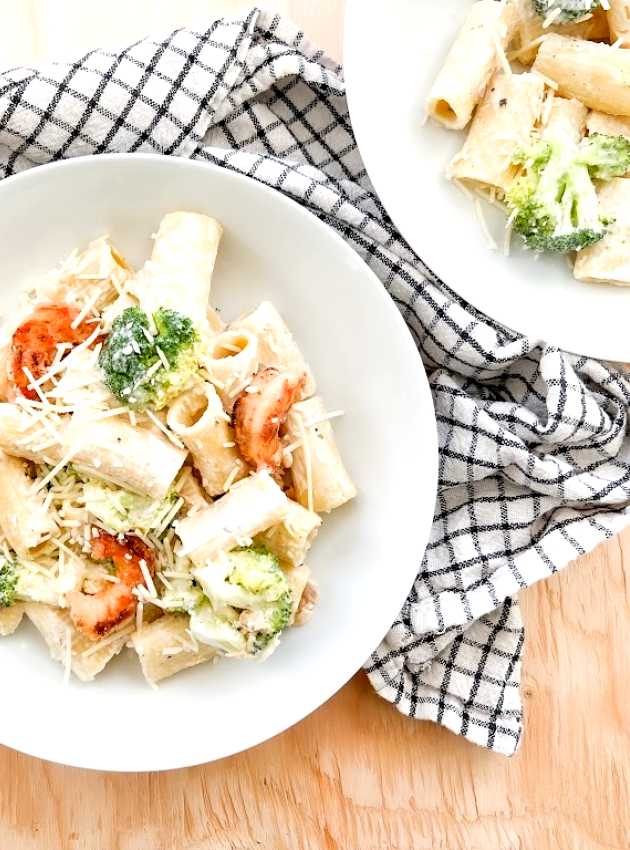 Here's our balanced version of a comforting classic, Alfredo sauce. By using a milk base instead of cream, our Alfredo sauce recipe is 50% lower in fat than commercial versions.
Ingredients
500 ml (2 cups) milk
45 mL (3 tbsp) all-purpose flour
15 mL (1 tbsp) butter
2 cloves garlic, finely chopped
80 mL (⅓ cup) cream cheese
80 mL (⅓ cup) grated Parmesan cheese
15 mL (1 tbsp) Bas-du-fleuve salted herbs
Salt and pepper, to taste
Note: By using a milk base instead of cream, our Alfredo Sauce recipe is 50% less fatty than commercial versions. You can replace the salted herbs with 2 ml (½ tsp.) of salt and 10 ml (2 tsp.) of Italian herbs or dried parsley.
Preparation
In a medium bowl or large measuring cup, whisk together the milk and flour until smooth. Season with salt and pepper.
Melt the butter in a saucepan over medium heat. Add the garlic and cook for 2-3 minutes, stirring constantly, until the garlic is golden.
Gradually pour the milk mixture into the saucepan while whisking constantly. Cook over medium heat for 6-8 minutes, stirring, until the sauce thickens.
Stir in the cream cheese, Parmesan cheese, and seasoned herbs into the milk mixture. Cook for an additional 1–2 minutes, or until the cheeses are melted. Adjust the seasoning to taste.
Serve the sauce over pasta with a side of green vegetables and a protein source such as chicken, shrimp, or salmon for a complete meal.
Conservation
Can be stored for 4-5 days in the refrigerator or 3 months in the freezer.