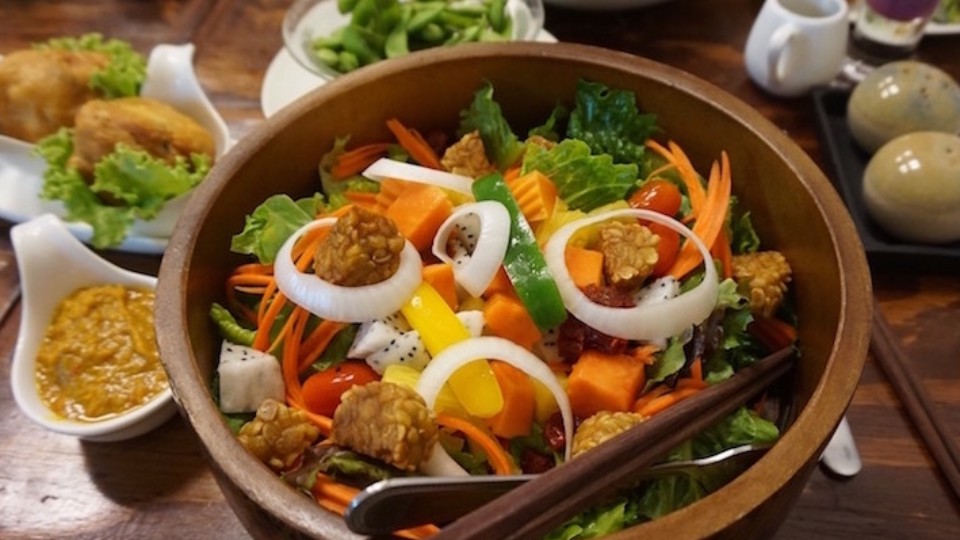 Meat substitutes are becoming more and more popular. Contrary to popular belief, these are products that are not exclusively made for the neighbor or the vegan cousin! They are delicious products, as well as being good for your health. Tofu is not the only representative of this category, there is also tempeh! 
Tempeh ... what? 
Tempeh is a meat substitute that originates from Indonesia. It is made out of fermented soybeans and some other cereals. The final product is a heterogeneous block in which you can see soybeans aggregated together. Tempeh is available in "health" or "organic" food markets, either in the chilled section or in the frozen section. If in doubt, ask an employee. 
Why should we eat it? 
Tempeh is a source of protein containing all the essential amino acids, making it a complete substitute for meat. 
It is a fermented food: The fermentation process makes several nutrients more bioavailable, or in other words, ready to be absorbed by the body. Thus, tempeh is richer in protein, good fats, fiber, niacin, vitamin B12, potassium, copper, phosphorus and magnesium. 
And it tastes good?! 
Oh yes! However, just like chicken, you have to cook it! Do you snack on a raw chicken breast pudding when you arrive from the grocery store? I surely hope not! Tempeh has an earthy taste, with nutty and mushroom aromas. Its taste is stronger than tofu, which gives it more personality on the plate. The tempeh is at once firm, crisp and tender because of the pieces of beans in it. Just like tofu, it is possible to cut the block in different shapes according to the desired final product (strips, cubes, small pieces, triangles, etc.). It is also possible to cut the tempeh with biscuit molds to make special shapes! 
How to cook it? 
Tempeh must be cooked before being consumed. You can use it instead of any meat in your favorite recipes. BUT, here's a secret for you: Boil your tempeh 10 minutes before doing anything with it! No need to thaw it, simply put the tempeh in water and make sure it boils 10 minutes. Then, do whatever you want with it, whether it be marinating, sautéing or baking it. That way, the flavors and the texture will improved! 
Recipe ideas 
For ideas on how to prepare tempeh, head to our recipes tab! ;)