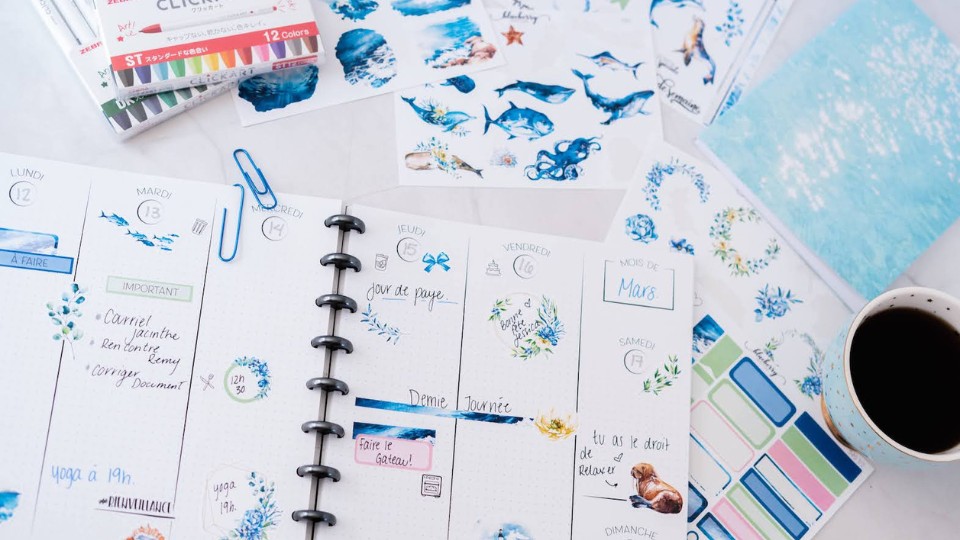 It sounds familiar to us all. You just picked up the kids from daycare after a long day at work and everyone is hungry. You forgot to plan this week's menu, and there is nothing unfrozen, nothing in the fridge. Therefore, you decide to order some pizza. Even though it's not always the most satisfying meal, it will work for now.
Wouldn't It Be Great If We Could All Avoid This Situation?
I believe our meal planning can make our week better. We can prepare our food in advance, balance our meals, and have everything we need readily available. In my case, all this meal planning is about my refillable Blueberry planner.
Preparation Is Key
With my weekly coupons and sale, I plan my menu for the upcoming week on Sundays. This week's menu is written in my planner so the whole family can see it. The habit is good for my budget, but also allows me to balance my meals. I eat a bit of pasta here, and a bit of vegetables there. Depending on how intense my day is, I also prepare my meal accordingly. When I'm in a hurry, I bake some simple recipes, and if I'm home early, I bake some elaborate recipes.
When I have all the planning done, I can prepare my grocery list so that I have everything I need throughout the week. I then write in my planner all the steps I need to complete in advance and what I need to take out of the freezer the night before.
It helps me so much to release my mental charge when I use this little trick. I no longer wake up in the middle of the night thinking, "Oh god, I forgot to unfreeze the chicken!" I have it written down in my planner and don't have to think about it anymore.
Have a Moment for Yourself
Meal planning has become a part of my wellness routine. I grab my favorite pen, get out my planner stickers, make coffee and sit comfortably in the living room. A zen moment like this allows me to release stress for the upcoming week. The work I did in advance and my planner will come in handy during busy weeks.
Using this little tip completely changed my week. When I don't have my planning ready, I am disorganized, and my head is everywhere. It's a little habit that seems silly, but it helps me follow my nutritionist's advice easily. Just try it and see how it works for you.