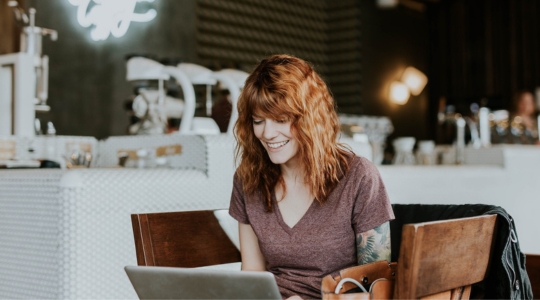 There are many reasons for consulting a dietitian. Whether it is for digestive and gastrointestinal problems, diabetes or cardiovascular disease, we can help you. Here are a few comments* from satisfied clients who have been helped by TeamNutrition professionals!
*The following reviews were translated
For Digestive Issues...
I finally took the plunge and consulted a dietitian to solve my digestive problems that were interfering with my quality of life. And I am very happy to work with Laurie who is an excellent professional and a great listener. Her advice paid off in the first few weeks. Thank you so much!
- Carine
(...) Fannie Beaulieu is, for me, a mentor, a guide, a guardian angel! Because I would never have been able alone, despite all my good intentions, despite my numerous documented readings on irritable bowel syndrome, to adequately understand my intestinal condition and to find the means to recover! I owe her a lot! I thank her from the bottom of my heart for supporting me, for raising my awareness, for making me understand! I am sure that her commitment to each of her clients is also concrete and passionate!
- Lucie
I enjoy my meetings with Laurie because they are always informative and dynamic. She is a good listener and her skills inspire confidence. The advice she gives me helps me better understand the problems associated with irritable bowel syndrome. Now, my diet is adapted to my condition and I already see a clear improvement in my health. Thank you !
For Support About Diabetes...
- Sylvain
Great service! Living with type 2 diabetes, I was very well advised by the dietitian Dominique Longpré. Dynamic, professional and a good listener, she understood my needs and put me on the right path to reach my health goals. Thanks to this valuable advice, I am looking forward to the future with optimism. Thank you Dominique!
For Liver and Cardiovascular Problems...
- Louis
I am very satisfied with my experience with TeamNutrition. I met Carol-Ann Robert who helped me a lot with my cholesterol, liver and weight problems. With a personalized approach, she was able to adapt to my lifestyle and give me great advice. Because yes, it is possible to eat a more balanced diet even when eating take-out. I feel physically and mentally much better.
Not sure if a dietitian can help you with your goals or health concerns? Want to learn more about the benefits of consulting a dietitian? Don't hesitate to contact us now!