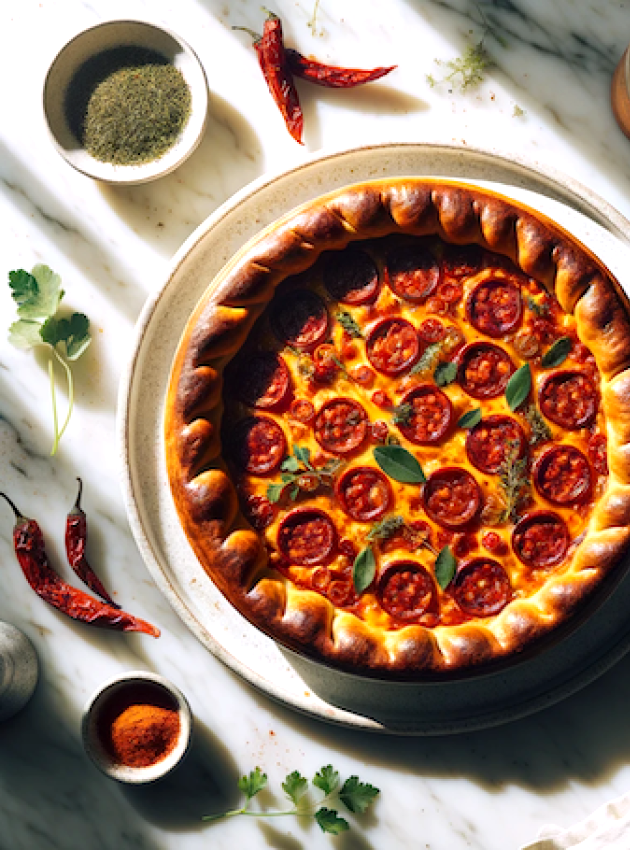 Discover the fiery flavors of our Spicy Spanish Pie recipe. With a perfect blend of zesty spices and savory ingredients, this tantalizing tart will transport your taste buds to the vibrant streets of Spain.
Ingredients
1 chopped onion
5 ml (1 tsp) of olive oil or avocado oil
2 medium potatoes cut into thin slices
5 ml (1 tsp) minced garlic
5 ml (1 tsp) of turmeric
2.5 ml (1/2 tsp) cinnamon
Salt and pepper to taste
2 GUSTA Española sausages, thinly sliced
4 eggs
60 ml (¼ cup) milk (soy, almond, rice)
50 g of the GUSTA gratin block, cut into thin slices
Preparation
In a skillet oiled (which one) over medium-high heat, cook the onion for 3 minutes or until they are golden brown.
Add potatoes, garlic, turmeric, cinnamon, salt, pepper and sausages to the pan and mix.
Cover and let it cook at low temperature for about 20 minutes, while stirring occasionally.
In a bowl, whisk the eggs with the milk, then pour into the potato mixture. Add GUSTA cheese on top and cover it all.
Let cook all the ingredients at low temperature for about 15 minutes more. Enjoy with a salad on the side!