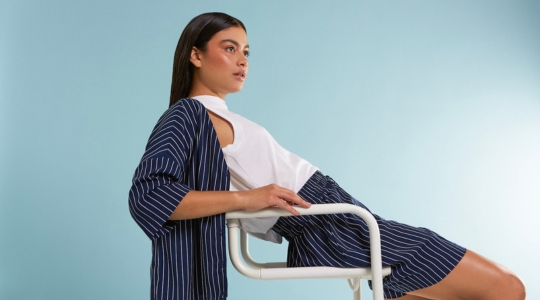 This article was written in collaboration with FIG
The return of the warm weather often rhymes with the desire to get out of the house, move around and explore new horizons. The advantage? Moving around on a daily basis can improve our mood and have many benefits on our overall health. But how do we make it enjoyable? Beyond optimal nutrition to provide us with the energy we need, comfort is just as important! So here are our must-haves for moving in style, comfort and pleasure this summer!
Psst: These items are made in Canada and created using post-consumer plastic bottles!
RACHEL & BLOOMFIELD Shorts
Movement and good weather often rhyme with biking! The Rachel and Bloomfield stretch bike shorts are made with 8 plastic bottles each. Eco-friendly, these must-haves dry quickly and wick away moisture in no time. Perfect for an impromptu post-bike ride swim!
But that's not all... As we know, the skin is an essential organ of our body. Among other things, it synthesizes vitamin D and regulates our body temperature. It is therefore important to take care of it and protect it from the sun, especially during long bike rides! Fortunately for us, Rachel and Bloomfield shorts come to the rescue by offering great sun protection (FPRUV 40+)!
WAVERLY Legging
Getting moving doesn't have to be complicated. We can go for a walk, mow the lawn, dance with friends or go shopping (yes, shopping is a sport!). For this, leggings can be a great option to move comfortably, while looking stylish. Plus, each Waverly legging is made from 16 plastic bottles! Easy to care for, leggings are usually a great ally for those hectic days.
This must-have item also makes it easy to incorporate physical activity into our day without having to change clothes. Looking for a little trick to motivate you to get moving? You can put on your sports clothes in the morning. This way, you'll be much more likely to get active when the opportunity arises!
This article made you want to get active and discover new horizons? FIG clothing can be your ally in combining comfort and fun! So, how many recycled plastic bottles will you be wearing this summer?