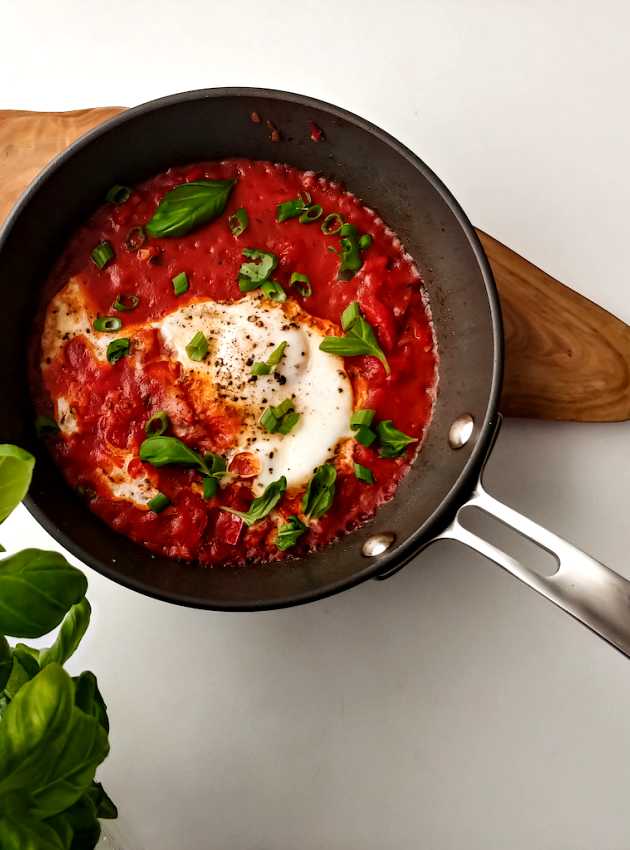 Experience the culinary magic of our Single-Serving Shakshouka! Indulge in a delicious and convenient twist on the classic dish, perfectly portioned for one. Enjoy a medley of flavors and simplicity all in one delightful meal.
Ingredients
2 ml (½ tsp) olive oil
½ red bell pepper, chopped in small dice
5 ml (1 tsp) chopped garlic from a jar
0.5 ml (⅛ tsp) ground coriander
0.5 ml (⅛ tsp) ground cumin
0.5 ml (⅛ tsp) smoked paprika
2 ml (½ tsp) italian seasoning
180 ml (¾ cup) of tomato coulis (passata)
1 egg (add 1 extra egg for larger appetites or higher protein intake)
1 green onion finely chopped
Chopped fresh herbs, to taste
1 slice of toasted multigrain bread, if desired.
Preparation
In a small skillet, pour oil and heat over medium-high heat.
Sauté the bell pepper for about 4 minutes or until well roasted.
Add garlic and spices and cook for 2 minutes. Keep stirring.
Pour in the tomato coulis and mix well.
Break the egg in the center of the pan, directly over the preparation.
Cover and cook for 4-6 minutes depending on the desired texture of the egg.
Garnish the Shakshuka with green onion and fresh herbs.
Serve with toasted multigrain bread, if desired.