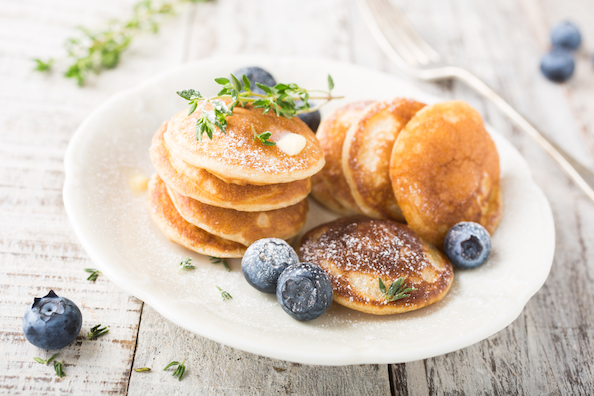 Finding tasty breakfast options is a struggle, but finding healthy, diabetic-friendly breakfast recipes can be near impossible. Generally, breakfast can be pretty high in carbs, which you'll want to avoid if you're looking for a healthy breakfast for diabetics. Luckily, finding and preparing a protein-rich breakfast has never been easier.
Keep reading for some diabetic-friendly breakfast ideas.
1. Energy Bars
These no-bake date, oat, and nut energy bars are a great on-the-go breakfast option if you don't want to make breakfast every morning. To make this breakfast even better, you can try adding some chia seeds. They're high in fiber (which can help lower your blood pressure) and contain quercetin, which can reduce your risk of developing several health conditions.
So if you add a bit of protein (yogurt works great with these bars!) and the chia seeds, you have a healthy breakfast that will keep you full for longer while still tasting amazing.
2. Mini-Pancakes
If you are a pancake lover, have no fear, you can still indulge in your favorite treat while keeping it diabetic friendly. These basic mini-pancakes are a great option, as they're low in carbs but still hit the spot. While the original recipe is mainly geared towards children, it makes an excellent base for a diabetic-friendly breakfast, so you can play around with it to suit your needs!
To make sure you stay fuller for longer you can add some protein sources like eggs to make it a well-rounded breakfast. So go ahead and make a few pancakes without worry.
3. Tofu Chocolate Pudding
If you love dessert for breakfast you should consider this creamy tofu chocolate pudding. This is the perfect treat to indulge in first thing in the morning and by adding some nuts and fruit you can change the texture each morning.
4. Breakfast Muffins
If you're looking for a bit more oomph in your breakfast or just prefer heartier breakfasts, diabetic-friendly breakfast muffins might be the way to go. Eggs and Quinoa breakfast muffins are a great example of this. Eggs are a great source of protein and serve as a binding agent for the muffins while the quinoa has a high fiber content, which helps keep blood sugar under control when paired with protein.
5. Gluten-Free Benedictine Toast
This gluten-free benedictine toast recipe is foolproof if you're looking for that classic eggs benedict on toast taste and texture. The edamame guacamole gives this recipe that extra edge, so if you make this for your friends, be ready for them asking for seconds.
Healthy, Diabetic-Friendly Food Made Easy
Breakfast doesn't need to be a chore with these great, healthy, diabetic-friendly breakfast recipes in your back pocket. Remember, you might not like every recipe you try, but through trial and error, you'll build a treasure trove of loved recipes that you'll make time and time again. So go and experiment with these breakfast recipes to see what you enjoy, just remember to keep the protein and fiber contents high.
If you enjoyed this article and would like similar content, please take a look at the rest of our diabetic-friendly recipes!